Plans are under way to transform a vacant 12,000-square-foot former warehouse at 1618 Shelby St. into a dual-purpose retail space—a faith-based thrift store with a separately-run in-house coffee shop.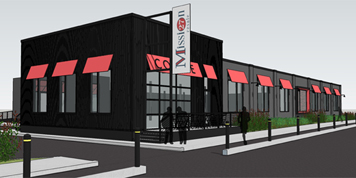 This will be the second location for Mission 27 Resale, a thrift shop run by the Society of St. Vincent de Paul Indianapolis, a Catholic organization. (See image at right for a rendering of the new store.)
"We're super excited about it," said St. Vincent  de Paul's executive director, Peter Zubler.
The southeastern corner of the Shelby Street building will house a coffee shop to be run by an outside operator yet to be named. "We're in talks with a couple of local coffee companies," Zubler said. Having a coffee shop within the thrift store should benefit both retailers, Zubler said. The coffee shop will help Mission 27 draw a more diverse customer base. Likewise, the coffee shop will benefit from the foot traffic generated by the thrift store.
"We think there will be a nice cross-pollination there," Zubler said.
The first Mission 27 store opened about two-and-a-half years ago at 132 Leota St., just south of Southeastern Avenue on the city's near east side. That 10,000-square-foot store was carved out of a much larger space that serves as a donation, distribution and sorting center.
The original store has been so successful that St. Vincent de Paul has been scouting for a second site for the past year, Zubler said.
The Shelby Street location, on the eastern edge of the Bates-Hendricks neighborhood and just south of the Interstate 65 overpass, is ideal for several reasons, Zubler said.
It sits in proximity to low-income neighborhoods—and people living in poverty are Mission 27's primary target customer, Zubler said. And the future Red Line is building a station near the property, which Zubler said will help make the store more accessible to customers.
Bates-Hendricks and neighboring Fountain Square and Garfield Park are hot spots for residential redevelopment, which Zubler said is also appealing to Mission 27. The store's customer base includes thrift-store fans looking for high-quality and vintage clothing, accessories, furniture, household goods and appliances.
"We believe we get a higher level of donated goods that come through the door," Zubler said. "A lot of the clothing is literally brand-new."
Proceeds from Mission 27 benefit two different St. Vincent de Paul programs—a food pantry; and Changing Lives Forever, which helps people escape the cycle of poverty.
Including the property acquisition and the renovations, the total investment will be about $1.2 million. 
Indianapolis-based Stenz Construction Corp. is the project's contractor and developer. Stenz representative Rob Corr said construction should begin in the second quarter, with the goal of finishing the building late this year or early in 2020. "We're moving forward with it on a pretty aggressive schedule."
Corr said Stenz is seeking to have the property rezoned from industrial to commercial, and it's scheduled for a rezoning hearing later this month.
To round things out this week, we offer a few coffee- and dessert-related items:
— The former Bovaconti Jewelers spot at 1042 Virginia Ave. in Fountain Square is being transformed into a coffee shop and juice bar that will open this spring. Justin Jones, who owns Georgia Street Grind at 25 W. Georgia St. in downtown Indianapolis, is working with Minda Balcius, his partner in the venture, to open Bovaconti Coffee in the 1,300-square-foot former jewelry store where Woodlawn Avenue meets Virginia. 
— Simply Divine Cupcakes moved its retail shop to City Market in mid-December. The company, owned by Sarah and David Duffy, is keeping its existing production bakery in Irvington. The bakery produces nearly 100 flavors of cupcakes and will offer a daily rotation of flavors at City Market, Sarah Duffy told IBJ.
— My Sugar Pie plans to open a second store next month at Greenwood Park Mall. It will take a space formerly occupied by Bare Minerals. My Sugar Pie was founded in 2008 by Kelly Maucere. The bakery's original store is at 40 E. Pine St. in Zionsville. 
— And, speaking of Greenwood Park Mall: the Starbucks there is closed for remodeling and is expected to reopen in April, Simon Property Group says.
Please enable JavaScript to view this content.