The local owners of a 5-year-old tequila-and-tacos joint in Broad Ripple plan to expand from their flagship location by opening a significantly larger restaurant in Fishers by the end of the year.
The three principals are adapting the concept behind their Sangrita Saloon in Broad Ripple for the 4,000-square-foot Sangrita Grill & Cantina in the Yard at Fishers District culinary hub, located on 116th Street east of Interstate 69.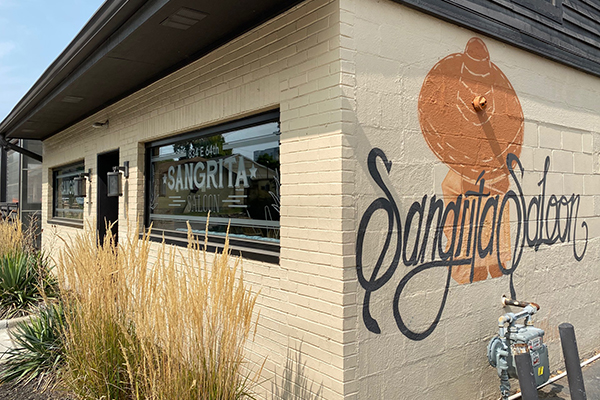 They plan to invest $1 million in the project slated to open in November, according to Tarek Mercho, managing partner for the trio.
"We're on a fast track and we're very excited," Mercho told IBJ. "If you haven't been to the Yard on a Friday or Saturday night, you need to see it, because there is no lack of business. There's pent-up demand for good restaurants in Fishers."
The three partners launched Sangrita Saloon in June 2015, envisioning a cozy and upscale lounge in a 1,200-square-foot building at 834 E. 64th St. It formerly was occupied by Greek's Pizza.
"We saw a niche in the market," Mercho said. "The Mexican dining scene in Broad Ripple looks a lot different now, but at the time there were no real places for craft cocktails. We saw a niche for high-end Mexican food and craft margaritas and mezcal. Premium tequila was going bananas."
Mercho, an attorney, had purchased the building in 2013, along with a two-story house on the same parcel. The latter structure became his law office. He and his partners then invested about $225,000 to gut and renovate the former pizzeria for Sangrita.
Although the saloon's sales in July and August have drooped 30% compared to the same months in 2019, the impact of the pandemic hasn't been catastrophic, Mercho said. The partners mothballed Sangrita in March, received a federal Payroll Protection Program loan and reopened judiciously.
"We're getting back to normal," he said. Asked why he and his partners would want to open a new restaurant during a pandemic, he deadpanned, "We're fearless—and we inked this deal prior to COVID."
The Fishers location will include a mezzanine level that can seat 50 patrons for private events. Whereas the Saloon is primarily a bar, the Grill & Cantina will in essence be a restaurant but with a similar cocktail menu.
"That's probably the most daunting thing about the transition—catering to more of a family dining atmosphere," Mercho said.
Please enable JavaScript to view this content.