Every morning, as I'm getting dressed for work, I grab two handkerchiefs so I can dab my watery eyes and runny nose throughout the day. I pat my pockets to make sure I have my anti-nausea pills.
Out of habit, I also reach for a comb, although my hair has almost completely fallen out in recent weeks. On my way out the door, I pull on a baseball cap to keep my noggin warm.
This is my new life as a cancer patient, trying to keep things as normal as possible.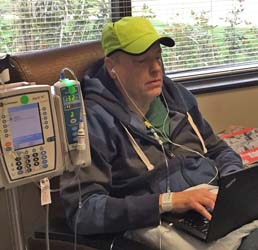 Here's your author receiving chemotherapy on Dec. 2 while writing a breaking news story about layoffs at Eli Lilly and Co. (Photo courtesy John Russell)
I'm still working as a reporter four or five days a week, raising a family, trying to help around the house.
But I'm not what I used to be—at least not at the moment. Like most people who had never been through this before, I was amazed at how cancer treatments are taking a toll on my body.
It all starts with the visits every other Thursday and Friday–hours and hours spent at the cancer center for chemotherapy, a polite word for infusing your body with poison to try to kill the cancer that is lurking deep inside.
The point of chemo is to cure me. That's what my doctor wrote on his order. I'm taking a cocktail of four chemicals to slow or stop cancer cell growth.
But these are not gentle chemicals. They sweep through my body like a tornado, with a torrent of side effects that range from annoying to horrendous: hiccups, dry mouth, sores, hacking coughs, fever, constipation, muscle pain, burning sensations and temporary hair loss.
Mostly, the chemo treatments sap my energy level and give me a foggy head for days. The nurses call it "chemo brain." All I know is it can be tough to concentrate, and I take lots of naps. The recliner at home has never gotten so much use.
I also know side effects are part of modern medicine. And some of them can be managed with pills, diet and exercise.
But sometimes, when I'm stumbling around the house, feeling out of sorts and completely worn out, I'm reminded of what a U.S. Army officer once said about the Vietnam War, as allied commanders were bombing and shelling villages to rout the Vietcong: "It became necessary to destroy the village to save it."
That's my body: collateral damage to a vicious battle between the chemo and the cancer.
A few weeks ago, I told friends: "The enemy of my enemy is my friend. But this chemo dude is pushing friendship to a whole new limit. It's like the world's most abusive friend."
Lately, I've been reading a fascinating and terrifying book on the history of cancer, "The Emperor of all Maladies," which won the Pulitzer Prize for general nonfiction in 2011. The author, Dr. Siddhartha Mukherjee, wrote it in response to an anguished patient who told him: "I'm willing to go on fighting, but I need to know what it is that I'm battling."
For centuries, doctors knew almost nothing about cancer. Early treatments consisted mostly of crude surgeries, with surgeons priding themselves on how much of the body they were able to remove, even deep beyond the tumor.
One of the first recorded treatments was in the 5th century B.C., when the queen of Persia noticed a bleeding lump in her breast. She kept it wrapped as long as she could and kept herself quarantined. Finally, having few other options, she had the tumor cut out by a Greek slave. It would take thousands of years for researchers to develop techniques for radiation, chemotherapy and targeted therapies.
Even today, cancer remains a complex disease, one of the toughest for researchers to crack. There are so many forms, and the many ways they invade the body, take hold and grow is mind-boggling.
I'm a health reporter. I've seen the statistics. Cancer kills more than 8 million people a year worldwide, according to the World Health Organization. It's one of the leading causes of death and morbidity, with about 14 million new cases a year.
Cancer also is a big business, ringing up about $100 billion a year globally for treatments.
I have little choice but to go along with the doctor's orders. And I'm not the only one. At my cancer center, the waiting room is always full. The scheduler once told me I had no choice but to take a two-hour appointment at 11:30, even though I work downtown, and the cancer center is on the north side, and doing so would require two round trips that day. She pointed to the screen. I looked. She was right. The calendar was jam-packed.
Today, I am once again at the center, getting what I'm told will be my last chemo treatment: the final of eight visits over two months. I will  bring my laptop, a few books and magazines, my phone and a bag of snacks.
A nurse will take my vital signs, then lead me back to one of the many private treatment rooms in the back. She will ask how I am feeling. She will insert tubes into a port just below my collar bone that was surgically implanted a few months ago. Over the next six hours, she will begin infusing IV fluids and chemicals directly into a major vein, the superior vena cava, which carries blood into the heart.
I won't feel any side effects immediately. But tomorrow, the familiar fatigue, runny nose and other effects will come rushing back.
My oncologist warned me at the beginning that each treatment would take a harder toll on my body. "You won't like us very much by the end of this," he said.
Like a typical reporter, I scribbled down everything he said. I came into the first visit with two notebooks and a digital recorder. While I was fussing with the recorder, the doctor took my iPhone and began recording himself with the Voice Memos app. He has been through this a lot.
He rattled off the name of every chemical and drug I will be taking, and all the side effects. He told me about studies and survival rates. My head started to spin.
But that was a few months ago, and hopefully, this phase of cancer treatment is about to end. Then, I will pray for a clean scan, and after that, prepare for possible surgery. I will meet with my urologist at the end of the month to talk about specific steps.
A lot of people have climbed this hill before me and made it to the other side as cancer survivors. And, unfortunately, a lot of people haven't, because their cancer was too advanced, or the treatments were inadequate, or they just didn't improve for whatever reason.
Without the treatments, my doctor said I would probably be dead within two years. If I follow orders, he told me, I have an 80 percent chance of long-term survival.
In the meantime, I thank my wife, friends and work colleagues who have offered supporting words, showed up with a meal, or kept me company. In many ways, we are all battling this together.
I think the past two months have been harder on my wife than on me. While I was taking yet another nap, she was working, cooking, doing Christmas shopping, dealing with two sons and trying to keep the house together. She also drove me to a lot of doctors' offices and dealt with all the bills. I have no idea how to repay her, but I will try.
I also thank cancer researchers and oncology physicians and nurses for fighting alongside me. It's a tough battle. It's takes a big army to slay this killer.
In the meantime, I am keeping my pills and hankies and comb handy. One day or another, I will need them all.
Please enable JavaScript to view this content.