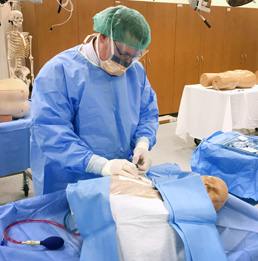 Bruce Williams, a nurse at St. Vincent Health and director of simulation for its new training center, demonstrates how to insert a long needle into a plastic dummy. (IBJ photo/John Russell)
Bruce Williams, a registered nurse at St. Vincent Health, draped a sheet over a patient's chest and inserted a large intravenous catheter with a 2.5-inch needle into a vein under the collar bone.
"Nice and easy," he said, as the needle glided in. The procedure went off without a hitch—except this wasn't a real patient. It was a plastic dummy in one of the training rooms at St. Vincent's new, $13.6 million education and simulation center at the health system's West 86th Street campus.
The center, which opened last week, is designed to allow doctors, nurses and technologists to practice medical procedures on dummies in an acute-care setting. The center will allow caregivers to react and respond to unusual or high-stakes situations in a controlled environment, with no risks to patients.
"You can practice over and over until you perfect the skills before you get to real patients," said Williams, who directs the simulation center, and demonstrated a few techniques.
The 45,000-square-foot center features full-sized hospital rooms that can simulate different medical settings, including a maternity delivery room, a newborn intensive care unit and an operating room.
Nearby, in an adjoining room, trainers use software, computer monitors and microphones to simulate patients' responses to medical procedures. The dummies can show signs of distress and pain. They can blink, talk and show vital signs, from breathing to racing hearts, and can even simulate heart attacks, so doctors and nurses can practice reviving and stabilizing them.
"When I was in training, you went to the intensive care unit to tend to real patients," Dr. Katherine Kelley, the center's medical director. "That's how you learned. You had an attending physician talk you through the steps. But this simulation center is such a step up for patient safety."
The simulation center is named after the late Dr. William K. Nasser, a pioneering Indianapolis cardiologist who died in 2005. The center is connected to an existing conference center and auditorium. The complex is just east of St. Vincent's flagship hospital, on a site formerly occupied by a two-story hotel for patients' families called the Marten House.
St. Vincent acknowledges it is not the first health system in Indianapolis to open a simulation center. Indiana University Health operates a simulation center, in conjunction with the Indiana University School of Medicine and the Indiana University School of Nursing, on the fourth floor of Fairbanks Halls at the head of downtown's Central Canal. That center opened in 2009.
Please enable JavaScript to view this content.