Not long ago, it was an old, dilapidated industrial warehouse, surrounded by a rusty chain-link fence. Over the years, it was home to a beer warehouse, a bakery-equipment business and a Bar Keepers Friend scouring-powder manufacturing line.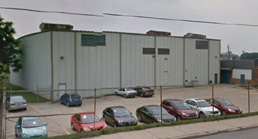 What once was a dilapidated industrial warehouse (above) has been transformed into a high-tech facility for regenerative medicine (below). (Images courtesy Cook Group)
The building's revival began to take root six years ago when Cook Group of Bloomington bought a biotech startup, called General Biotech, that was using a corner of the building. Two years later, Cook bought the building, and a year after that, it bought surrounding land.
Today—$21 million later—the property has been transformed into a modern facility that Cook is using to develop tools and technology for regenerative medicine, immunotherapy and bioprinting.
The Bloomington-based medical device company is using the building to house Cook Regentec, a new division that will develop and commercialize research and clinical tools to advance regenerative medicine—a branch of research that uses tissue engineering and molecular biology to regenerate human cells.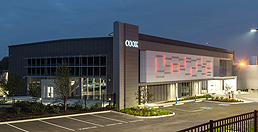 "The next revolution we all see happening in medicine is that the medicine is actually a cell or tissue," said Rob Lyles, president of Cook Regentec. "It's not a traditional chemical drug, and it's not just a protein. It's actually living cells, living tissues."
Cook recently cut the ribbon on the building at 1102 Indiana Avenue, just west of the Indiana University School of Medicine, and on the edge of 16 Tech, a new innovation district for life sciences now going up on the near-northwest side.
What Cook is doing is developing technology to help doctors remove cells from the body, get them into the lab, and then ship them where they're needed—sometimes to the other side of the world—without harming them.
"A living cell is a very powerful, but very fragile thing," Lyles said. "To get it out of the body and to work in the lab is a huge challenge."
Cook has set up three operations in the building to deal with that and similar challenges. The first is Cook General Biotechnology, an outgrowth of the small biotech that Cook bought in 2012, which was a young startup associated with Indiana University, with about 20 people. Cook renamed the operation Cook General Biotech, and uses it to work on technology for cell and gene therapy.
The second operation is Cook Biodevice, a medical-device unit focused on delivering those cells and therapies into the body.
The third is a veterinarian operation focused on developing cell therapies for animals.
Altogether, the old warehouse houses about 70 employees and contains 22,000 square feet of office space, labs and meeting spaces for Cook and its partners. Another 6,000 square feet, called the "Collaboratory," will be used by Cook as collaboration space with the Indiana University School of Medicine on regenerative projects.
Initial projects could include battlefield and trauma applications of bioprocessing tools, targeted delivery of advanced biologic medicines, advanced bioprocessing technologies and molecular tools for the production of engineered cell lines, Cook said.
"As a medical school, we are driven to develop new therapies for patients who are affected by devastating and life-threatening illnesses and injuries," said Dr. Jay Hess, dean of IU School of Medicine and IU's executive vice president for university clinical affairs. "This exciting new opportunity will enable us to tap into Cook Regentec's extraordinary expertise to ensure those discoveries are commercially viable and can be delivered to patients as efficiently as possible."
Please enable JavaScript to view this content.