It's the first major visible sign of the big, long-term changes coming to Riley Hospital for Children.
Dozens of physicians and staff members have moved out of their offices and clinics at the main hospital and relocated about a block east, into a newly renovated Riley Pediatric Care Center, a three-story building at 1002 Wishard Boulevard formerly owned by IUPUI.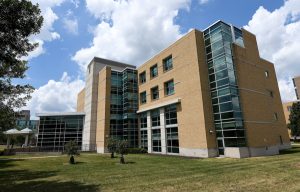 That move, completed a few weeks ago, makes space for a $142 million expansion at the hospital, which will house the maternity services now located at Methodist Hospital. Both hospitals are owned by Indiana University Health.
IU Health announced in 2015 that it would renovate four floors of Riley Hospital into a new, centralized maternity and newborn health unit. The four floors will house inpatient maternity services, including a labor and delivery unit, a Level 3 neonatal intensive care unit and a postpartum unit.
Methodist Hospital delivers more than 3,000 babies a year, making it the second-largest maternity hospital in the state, behind Community Hospital North.
Currently, Riley offers newborn intensive care for sick infants, but is not a maternity hospital.
The move is part of IU Health's way to address the state's high infant mortality rate and keep all newborn services under one roof. Seven children out of every 1,000 born in Indiana do not live to see their first birthday. They die of injuries, birth defects, sudden infant death syndrome and maternal complications.
That makes Indiana the 10th highest state in the nation for infant mortality, and first among all northern states.
Among the specialties that Riley officials have moved into the Pediatric Care Center are child development, child psychiatry, developmental pediatrics, pediatric primary care and the Center for Youth & Adults with Conditions of Childhood, Diagnostic Program, Growth & Development.
The next specialties to move in are adolescent medicine, genetics and the Hands in Autism program.
"I think the exciting thing with the Pediatric Care Center is we were able to relocate some key groups together," said Marissa Kiefer, vice president of Riley Strategy at IU Health. "We've been fairly strategic about where the groups are moving."
Now, with the four floors of Riley Hospital empty, the construction team is moving ahead with demolition and renovation of the second and third floors. Already, contractors have completely torn apart the fourth and fifth floors.
The construction project and the transfer of maternity services from Methodist to Riley is scheduled to be completed in 2021.
Please enable JavaScript to view this content.