The crowd at Hilbert Circle Theatre on Monday night came to love "Flipped."
And why wouldn't they?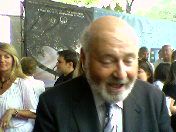 Rob Reiner, former "All in the Family" star and the maker of such gems as "The Princess Bride," "The Sure Thing," "Misery" and "Stand by Me" was there, even making a joke from his seat during a delay between the projection of the Heartland Film Festival/Truly Moving Pictures logo and the beginning of his film. ("It gets better," he said into the darkness, to big laughs).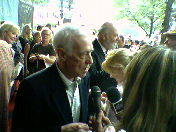 Also on hand was the ever-smiling John Mahoney, best known for "Frazier" but also one of the few Hollywood actors who steadily returns to do stagework (he's writing a play now).
And Penelope Ann Miller, another stage and screen star whose range and appeal has put her in the co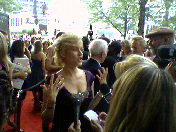 mpany of Al Pacino ("Carlito's Way"), Arnold Schwarzenegger ("Kindergarten Cop"), Robert Downey Jr. ("Chaplin"), Robert De Niro ("Awakenings"), Marlon Brando ("The Freshman"), Gregory Peck ("Other People's Money") and many more.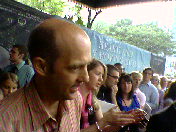 And Anthony Edwards, of "ER," "Revenge of the Nerds" and "Top Gun" fame.
The stars red carpeted their way into the theater, chatting with media along the way, and gamely stuck around afterwards for a questions and answer session from stage hosted by "Hoosiers" screenwriter Angelo Pizzo. They, along with young actress and the actual star of the film, Madeline Carroll, were charming and engaging throughout (and most expressed a love for "It's a Wonderful LIfe" as the quintessential "truly moving picture").
I haven't read any science on this (and there probably isn't any), but I'm guessing that when the actors and director of a Hollywood film attend a premire in a town outside of NY, Chicago or L.A., that the assessment of the film by those in the audience gets an automatic upgrade. Free popcorn helps, too. 
So while the Hilbert audience was passionately enthusiastic about Reiner's film, it by no means has an easy road ahead. (The PG-rated film gets a national release later this month). Set in the late '50/early '60 (changed from the contemporary novel it's based on), "Flipped" explores the awkward attraction between an iconoclastic young lady and the pretty boy she crushes on.
You might think "Oh, I've seen that sort of film before," but, when pressed, it's difficult to think of a film like it. Reiner is hoping that audiences think of "Stand by Me," but this doesn't have that one's level of intensity. "Stand by Me" is more about the bonds that exist and get tested between friends. "Flipped" is more about the attempts to create connections during a particularly awkward period in kids' lives.
I don't think it's spoiling to say that this film doesn't  have any surprising third-act revelation. To its credited, there's not a major illness thrust on the characters or an outside evil force that enters their lives.
It's a small, gentle film (with a very strong grown-up acting bench) that is exactly the kind of film that could use the Heartland/Truly Moving Pictures boost. And here's hoping that the success of the event bringins in more high-profile premieres, whether during the fest itself in October or any time during the year.
Please enable JavaScript to view this content.