In January the curtain will go up–literally–on the new Indiana University Cinema.
I took a trip down yesterday for a sneak preview of the facility–a trek that included a screening of a beautifully restored copy of the still-powerful Academy-Award winner "The Bridge on the River Kwai." And, yes, the thick, rich magenta curtain did rise before the film, taking me back to at time when theaters cared about presentation.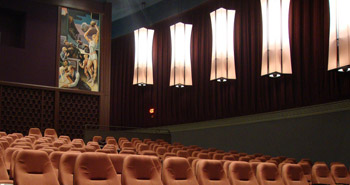 It's just one of many things that IU Cinema Director Jon Vickers and his team seem to have gotten right.
First, they've renovated the space that used to house IU Theater, restoring the four Thomas Hart Benton murals and adding comfy, raked-just-enough seating and projection equipment to rival those of West Coast screening rooms (For techies out there, that means both a Sony T420 projector and a Barco 2K digital projector, which also allows for 3D showings and streaming 4K content). The theater is also THX certified for sound (one of only ten university theaters in the country so designated).
All that would be interesting but not particularly get-in-the-car-and-head-for-Bloomington if it weren't for the content. And the first season lineup looks outstanding. It includes:
–"Bridge on the River Kwai" will be back in January as part of a celebration of the works of director David Lean. Also included: "Dr. Zhivago," "Lawrence of Arabia," "Brief Encounter," and more.
–A John Ford Searches West series will include "Stagecoach," "The Grapes of Wrath," "The Searchers," "The Man Who Shot Liberty Valance," and more, with scheduling allowing you to see three films in a day, if you have the cinematic stamina.
–A quartet of Michelangelo Antonioni films will include "L'avventura."
–A CINEkids series will offer international children's films, past ("Mon Oncle") and present (a retrospective of films from Aardman, best known for Wallace and Gromit.)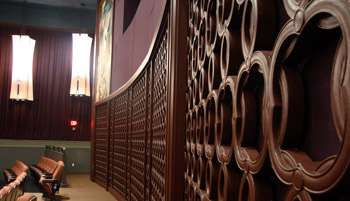 –I'm not sure what ties together the films in the City Lights Series, but it will include masterpieces ranging from "The Lady Eve" to "Paths of Glory," so I'm not arguing. 
–Documentary master Albert Maysles will be visiting IU in February, sparking screenings of "Grey Gardens," "Gimme Shelter," and more.
–An East Asian Film Series will include the recent "A Woman, a Gun, and a Noodle Shop."
–A Jewish Film Series will include "The Chosen," and "The Pawnbroker."
–The International Arthouse Series will focus on more recent films, including Mike Leigh's "Another Year."
–An Underground Film Series will screen "Scorpio Rising" and more.
–Women of French Cinema Series will bring in films from the past five years including "Bluebeard" and "The Wedding Song."
–And there's a grab bag labeled Other Films which allows for the recent Heartland Film Fest favorite "Freedom Riders," the obligatory Bloomington screening of "Breaking Away" and, one of my personal favorites, the every-frame-a-work-of-art Terence Malick film "Days of Heaven."
Oh, and lectures from Angela Pizzo, Kenneth Anger, and more.
And price? Most of the screenings will be free, with a ticket picked up around the corner at IU Auditorium (an online system is being developed, which should help us out-of-towners make sure that tickets will be there when we road trip). The international Arthouse Series, featuring recent films, is only $6 for non-students and even special event screening such as 1927's "Metropolis" with live music from Jacobs School of Music will only cost $10.
Any downsides?
Only two that I can come up with.
1. There isn't high-speed rail to Bloomington.
2. No popcorn is served.
Your thoughts?
Please enable JavaScript to view this content.