No, we didn't excavate to the back into the closet of a Corey Hart fan to find this t-shirt.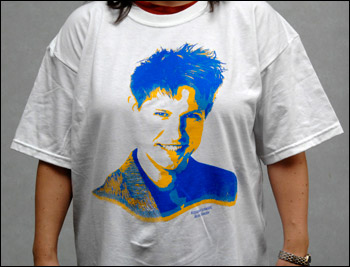 That tinted fellow pictured isn't an '80s pop singer at all.
It's actually Krzystof Urbanski, Music Director for the Indianapolis Symphony Orchestra.
Urbanski, whose four-year contract will carry him to the ripe old age of 32, has been the subject of an aggressive (for the Symphony) marketing campaign to help him achieve a kind of regional rock star status. You've seen him on billboards announcing the beginning of "The Urbanski Era." And now, in the ISO gift shop, you'll find these shirts sporting his youthful face.
Sure, you can pick up a Leonard Bernstein t-shirt here or a generic conductor shirt here. But putting the new guy on a shirt sets an interesting precedent in high-brow music marketing.
My question: Are you enjoy the way the ISO's new baton-wielder is being marketed? And do you think these efforts will drive ticket sales and help find funders for the ISO?
Futher: How well-known is it possible for an arts person to be known in Indianapolis? I'd love for Indy to be a place where conductors, dancers, actors and artists are known to the general public. But is that possible?
Side note for trivia buffs: Urbanski was born the same year that Corey Hart recorded his hit "Sunglasses at Night."
Side note for those who actually want to hear the music: Urbanski's next performance with the ISO isn't until March, when he'll conduct "The Planets."
Your thoughts?
Please enable JavaScript to view this content.