"The Girl with the Dragon Tattoo" Rooney Mara was there and so was tennis legend John McEnroe and "Burn Notice" star Jeffrey Donovan, but as soon as Larry Bird and Magic Johnson arrived at Broadway's Longacre Theatre, it was as if nobody else was on the red carpet for opening night of "Magic/Bird."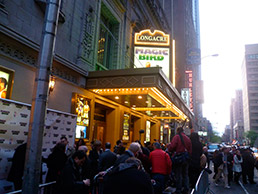 Broadway's Longacre Theatre played host to the premiere. (IBJ Photo/Lou Harry)
Bird, in fact, held off press for a bit while taking time to be photographed with a young fan before being repeatedly asked such insightful questions as "So, how does it feel to be at opening night of a play about you?"
Bird, to my ears, remained gracious, unhurried, and in good spirits. Apparently opening night was the first time he was seeing the complete show, and, no, he didn't have sign-off on who would be playing him on stage—a role eventually going to hunky actor Tug Colker, who was effectively French Lick-ified into a reasonable likeness of the young Bird.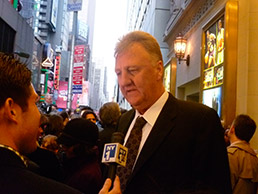 The eponymous Larry Bird was in good spirits dealing with the media at the premiere. (IBJ Photo/Lou Harry)
I didn't spot Pat Riley, David Stern or Bob Costas (who could have been lost in Magic's shadow), but diehard Laker fan Penny Marshall walked the walk—in sneakers—and, afterwards, grabbed a pre-show smoke. Early arriver John Starks, formerly of the Knicks, speculated that there might a show in "Shaq/Kobe," although producers Fran Kirmser and Tony Ponturo said that, while they've been approached by other sports legends, they are keeping their next move a secret (The pair was also responsible for last season's "Lombardi.")
For my review of "Magic/Bird," click here.
Please enable JavaScript to view this content.