Some quick notes:
-If you had mixed feelings about the Tony Awards coverage on Sunday (and have a bit of a mean streak in you), then check out this hilariously rude recap from the knuckleheads at Broadway Abridged. And if you are baffled by some of the plot holes in "Wicked," well, then click here for BA's skewering of that show.
–FYI: My review of "Wicked" will be featured in the upcoming print IBJ–along with thoughts on the new Conner Prairie attraction and the movie "Up." (Do you see a pattern?)
–Can't get to New York City to see the Tony-winning revival of "Hair"? Ball State University Theatre has just announced its 09/10 season, which will kick off with the Age of Aquarius musical. My thoughts on the Broadway version can be found here.
–Up for some trivial pursuits tonight (Thursday)? I'll be serving as emcee for a pub trivia competition at Pat Flynn's Public House. Proceeds benefit Heartland Actors Repertory Theatre. More info here. (Does your not-for-profit need an event host, panelist, or contest judge? If available, I may be able to help. Drop an e-mail to lharry@ibj.com.)
–Since moving locations, independent bookseller Big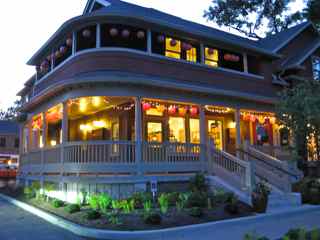 Hat Books is now calling itself Big Hat Books and Arts. The new digs include a private room that can seat up to 100, theater style.
–A study in San Francisco establishes that giving out free tickets doesn't just serve to "attract new theatergoers to a free show, but also to convert a significant number into future paying customers." More details here. 
–Ticket giveaways are back on my IBJ Daily A&E e-mail. If you aren't already a free subscriber, click here and sign up.
Your thoughts on any of the above?
Please enable JavaScript to view this content.