Where to start?
That's always a challenge with the Indy Fringe festival, which offers more than 60 different shows at seven venues on or around Mass Ave.
This time, I decided to make my first choice a conservative one—not politically conservative, just potential-satisfaction conservative.
That's because "Schoolhouse Wrong To: More Wronger," Three Dollar Bill Comedy's follow-up to last year's runaway Fringe hit. How bad could it be?
The new edition, like its predecessor, is a spoof of the "Schoolhouse Rock" shorts that taught a generation the function of conjunctions and how a bill becomes law. The cast is smaller this time (down from seven to five) but the big laughs are as prevalent, including an inspired grammar lesson from Jesus himself. Sure, a few numbers don't quite hit the mark, and some intros are fuzzy, but my belief is even deeper now that this is a show—and a troupe—with legs. Combine parts one and two, trim the weaker bits, and "Schoolhouse Wrong" should be playing every college in the country. Where's a smart producer/investor when you need one?
I was less enamored with "The Fabulous Problemas," brought to Indy by a trio from Maine's Celebration Barn Theatre. A physical comedy piece—silent, for the most part, except for energizing French music—it had the verve and commitment needed to make such a piece sustain 45 minutes but not the laughs, pathos or the physical wonder. It left me wanting to see its performers in a stronger, more focused piece.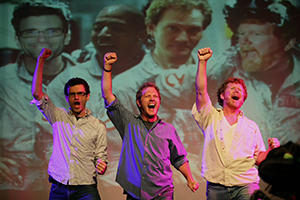 I'm trying really hard not to speculate on the economics of bringing the sizable company responsible for "Don't Cross the Streams: The Cease and Desist Musical" to Indy. But whether or not they aren't making enough money to transport themselves back and forth to Ohio, I'm glad they made the trek. The show—which would have been more relevant twenty years ago when people had a more solid recall of "Ghostbusters"—tells the tale of a would-be musical version of that pop culture classic. A cease-and-desist letter pushes the director, composer and cast to rethink their show just enough to avoid litigation. The result is a very funny piece of fluff that aims for the middle and squarely hits it. It's got terrific songs and some inspired comedic moments presented in a solidly professional, very ambitious package. Cease debating and go see it.
Your thoughts?
Please enable JavaScript to view this content.