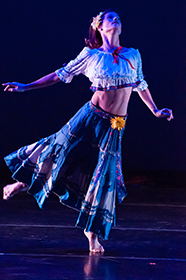 The Beatles first charted with "Love Me Do" fifty years ago, which places some original fans in their 70s. With young audiences still falling for Fab Four music, that makes them perhaps the single band with the widest generational mass appeal.
No surprise, then, that Dance Kaleidoscope revived its 2007 "Magical Mystery Tour" in 2009 and again this season (Oct. 11-14)—and probably will bring it back in 2015, 2018, and 2022.
I worry, in tough economic times, that revivals will be more common. And even when new programs are created, that the commercial needs could stifle the company into being the dance equivalent of Broadways' jukebox musicals (the next two shows being fueled by the music of Frank Sinatra and Edith Piaf).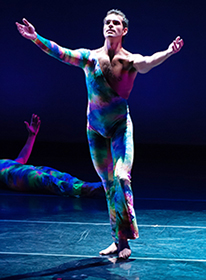 But why complain when the show keeps getting better? In 2009, the leads came across as showboating, throwing the balance off in both the "Innocence" first act and "Decadence" second. Not the case this time with Timothy June in the spotlight, providing a "Pippin"-like character to follow while never upstaging the ensemble.
He wasn't alone in grasping his place in the big picture. With the current company, there's more of a sense of welcoming the audience into the experience and a greater sense of the dancers being in the moment. And that's all to the good.
Your thoughts?
Please enable JavaScript to view this content.