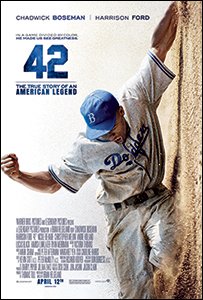 "42," the new film about Jackie Robinson (and isn't it about time?), opens in theaters April 12.
But you can see it on the 10th at the Galaxy Theatre, for free, by winning tickets for the latest IBJ Movie Night.
All you have to do is enter below and name your favorite movie, TV show, song, restaurant or whatever with numerals in the title. I'll pick winners at random until all tickets are gone.
As with most such screenings, winning a pass doesn't guarantee admission. You still need to arrive early to claim seats.
More information and a stirring trailer can be found  here.
Good luck.
Please enable JavaScript to view this content.