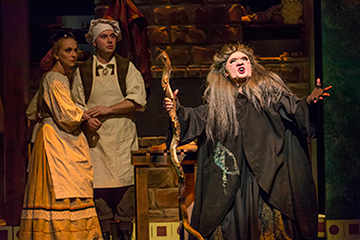 Stephen Sondheim musicals seem everywhere in central Indiana these days, with the rarely staged "Follies" up at Footlite Musicals, "Sunday in the Park with George" offered last month at IU, "A Little Night Music" gracing the IRT earlier this season, and "West Side Story" (lyrics by Sondheim) coming to town as part of the Broadway series. If only Indianapolis Opera would take a swing at "Sweeney Todd" …
At the Center for the Performing Arts, Booth Tarkington Civic Theatre's production of the Sondheim/James Lapine fairy-tale mash-up "Into the Woods" runs through May 11, and what's surprising about that production isn't any boldness in casting or design (although the lighting by Ryan Koharchik is first class). Civic isn't known for unconventional stagings, and "Into the Woods" is played pretty much by the book.
Rather, the surprise comes in the palpable, not-watered-down sense of doom that hangs over that second act. Having seen multiple productions of the musical, including the Broadway original, you'd think I'd be immune to its tensions. But the Civic folks manage to make that potentially troublesome second act appropriately troubling. The Baker sings of "wondering what even worse is still in store" and, in the audience, I felt that fear.
Most cast members offer variations on the readily available recording of the Broadway production. Standing out, though, are Nathalie Cruz—particularly in the first half when her haggard witch carries a desperation scarier than her spells—and Julie Bonnett, giving a rich truthfulness to Cinderella that I haven't seen in any of the previous productions I've watched.
More thoughts on Civic's "Into the Woods" in the May 13 IBJ and online at ibj.com/arts on May 11.
Your thoughts?
Please enable JavaScript to view this content.