Back in the '90s, I had an idea.
What would happen, I wondered, if a section of a city were suddenly covered with an invisible, impenetrable dome? What would happen to those inside as they dealt with the phenomenon, negotiating new rules in this altered reality?
So I wrote a screenplay, which I called "Nine Square Blocks." And I registered that screenplay with the Writers Guild of America. Then I sent that screenplay to a few contacts in Hollywood and used it to try to land representation.
Nothing happened. Flash forward to 2004.
Playwright Eric Pfeffinger and I had just sold our first collaborative novel, "The High-Impact Infidelity Diet," to Random House. While that book was awaiting publication, we kicked around ideas for what would be our next novel. In search of that elusive next idea, I sent Eric an old one: a copy of my "Nine Square Blocks" screenplay.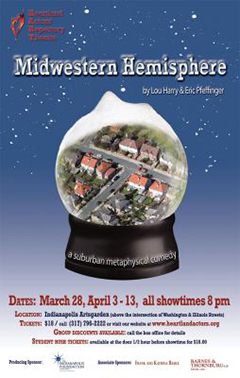 He liked it—well, he liked the dome device. But, to him, our proposed novel would work better as a social satire, not as the Capra-esque story I had envisioned.
Fine by me. We scrapped all the characters in the screenplay and moved the dome from an urban neighborhood to a suburban development. Over the course of a year, we created a mammoth manuscript that we then forwarded to our agent. Among the titles we considered: "Under the Dome." We rejected that because it just seemed lame.
Our agent shopped the novel beginning in 2005. Alas, no publisher wanted the unwieldy thing. So we parked it in that special drawer where old projects ferment.
I couldn't shake the story, though. So in 2007, I asked Eric's permission to try to streamline the novel, tightening its focus to a handful of characters. As I edited and rewrote, I found that what I thought would be a shorter novel really wanted to be a play. To test my theory, I gathered some actors to read a draft. Surprise: It seemed to work.
After a series of readings/workshops, Heartland Actors Repertory Theatre opted to stage what became known as "Midwestern Hemisphere" as its first production.
During the workshops, I learned in Entertainment Weekly that one of the plot points of "The Simpsons Movie" would be the appearance of an impenetrable dome over Springfield. I felt sick. Still, great minds, right?
We went ahead with the show, anyway, confident that the play we created transcended the originality of the concept. It premiered in March 2008 as the first full theatrical production ever staged at the Indianapolis Artsgarden. You can find a positive review of it here and a negative one … wait, you can find that for yourself if you really want to.
An afterlife? We thought the crowd-pleasing "Midwestern Hemisphere" had a shot. So I rewrote, nipped and tucked, and soon a rewritten version was workshopped at Crossroads Theatre Company in Terre Haute and read at the Walnut Street Theatre in Philadelphia. Positive reactions all around.
But then I read in Entertainment Weekly about Stephen King's upcoming book, "Under the Dome." I felt sick. Still, great minds, right?
Nah. I figured we were done. Although rights are, as they say, available.
I didn't read King's book. And, no, I didn't pursue legal action. Despite my registration of the original "NIne Square Blocks" script, the fact is that two people can come up with similar ideas. So can three. Or more.
But I won't be watching the "Under the Dome" miniseries. Too painful.
And if Stephen King announces that his next novel involves a beer can raft, a horror movie magazine in the 1970s, a teen working in a rock 'n' roll shop in the 1980s, or an interactive auction, he'll be hearing from my attorney.
Your thoughts?
Please enable JavaScript to view this content.