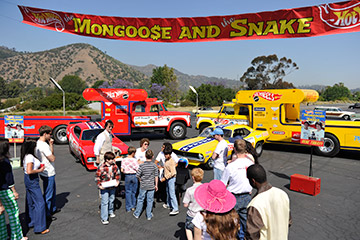 I'm not a hardcore racing fan. So it took me a few minutes to realize why the nicknames Snake and Mongoo$e seemed so familiar when I heard about the new movie with that title.
Then it dawned on me: Hot Wheels.
Like a generation of boys, I played with Hot Wheels cars when I was a kid. And Snake and Mongoo$e were the names attached not just to a pair of mini-dragsters, but to whole sets of Hot Wheels racers.
There's a back story, of course. Snake and Mongoo$e were the nicknames for Don Prudhomme and Tom McEwen, whose friendly rivalry helped broaden the appeal of drag racing in the 1960s and 1970s.
Their story is told in "Snake and Mongoo$e," getting the red-carpet treatment Thursday night at the Regal Shiloh Crossing Stadium 18 in Avon. The screening coincides with the National Hot Rod Association's Chevrolet Performance U.S. Nationals at Lucas Oil Raceway.
Attendees shouldn't expect "Hoosiers" or "A League of Their Own." But "Snake and Mongoo$e" works just fine on the level of "Madison" or "Greased Lightning." There's not much conflict in the story—and it's tough to build excitement for individual races that only last a few seconds each. But by shooting with a '70s made-for-TV eye, it smartly manages to incorporate period race footage with few seams showing. Indianapolis, of course, plays a prominent role in their entwined careers and in the film.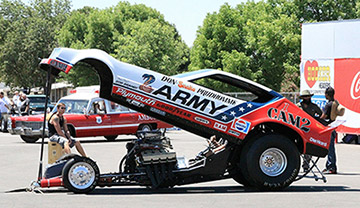 Familiar faces Noah Wyle ("ER"), Tim Blake Nelson ("Oh Brother Where Art Thou?") and Fred Dryer (TV's "Hunter") show up organically as a Mattel exec, a reporter, and a mechanic, respectively. But the film rests comfortably on the shoulders of Jesse Williams (who also appears in the current hit "The Butler") and Richard Blake. As the title duo, they might bring to mind Luke and Bo from "The Dukes of Hazzard"—but that could be just the '70s hair and eat-my-dust milieu.
Blake is expected at the screening, along with the real-life Prudhomme and McEwen. Also walking the carpet: Indiana-born Ashley Hinshaw (who plays Prudhomme's wife), as well as NHRA drivers competing over the weekend.
The film begins an open-ended run Aug. 30th at Shiloh Crossing as well as in a smattering of other theaters across the country.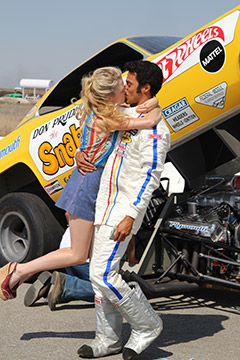 Please enable JavaScript to view this content.