A shipping mistake left the opening night crowd at the Murat Theatre without programs for "Ghost: The Musical."
And perhaps that's a good thing.
Is there any real reason to track down the name of the blue-light-slathered non-Equity actor floundering in the thankless title role? Any reason to check the credits of the choreographer saddled with adding dances to a story that doesn't cry out for such services? Any benefit to seeing if the pop composer and lyricist who offer one generic and forgettable song after another have inflicted tunes on prior shows?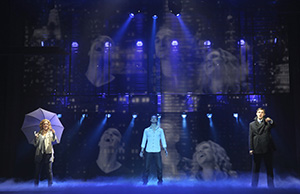 I'm not one to generically knock Broadway for trying to adapt movies for the stage. Sometimes, such efforts work (see "Once"–which I'm still hoping we get here next season). Sometimes, they don't (we've already suffered through "9 to 5" although, to be fair, the movies was pretty bad, too). Sometimes, they are good enough ("Legally Blonde"). Like the worst of the genre, though, "Ghost" feels like it was created at a business meeting, not in the hearts and minds of artists. Even the stage version of "Flashdance" managed to find more of a human heart.
It has some slick projection-based special effects, but to what end? Narrative coherence doesn't seem to matter to the show's creators, particularly in a subway sequence that might have wowed if it actually communicated anything. A cast that seems to have been delivered whole from a mid-level college theater program doesn't have the skills to get any of this to rise above the level of time filler.
I don't blame Broadway in Indianapolis for this theatrical why-bother. We don't have the subscribers to get many shows right out of the gate and, besides, BAA can only choose from what's available. Unfortunately, "Ghost" is one of the few new musicals on the road.
"The Book of Mormon" can't get here too soon. (It's due in June).
Please enable JavaScript to view this content.