One of the theatrical benefits of living in Indianapolis is being just a short drive from the Humana Festival of New American Plays, held each year at Actors Theatre of Louisville.
For 28 years, the bold festival has offered full productions and every annual visit brings at least one show that I can't wait to help share with the wider theatrical universe.
This year, that show is Lucas Hnath's "The Christians."
Give a play that title and you are not just inviting, you are insisting that audience members walk into the theater with expectations. Another play mocking the faithful? Another expose of religious hypocrisy?
One of its many pleasures, though, is that it shatters expectations across the board, creating an original, riveting, thought-provoking drama with characters whose sincerity fuels fascinating conflict.
The location is a megachurch whose Pastor (Andrew Garman) has two interesting pieces of news for his sizable congregation.
One is that the building itself has, thanks to their generosity, been paid off.
The other is that he has, of late, been pondering the idea of Hell. And his new reading of the Bible has led him to the conclusion that it does not exist.
Oh, he still believes in Jesus. But not in the idea of eternal punishment for those who don't.
 "The Christians," in which both sermon and searching one-on-one conversations are treated with the same microphone-in-hand amplification, speaks in a unique style but never, pardon the expression, preaches. Rather than simplify faith, it gives its characters the courage of their convictions.
There is no bad guy here—not the assistant pastor whose faith leads him to lead many of the flock away, not the layperson whose job it is to make sure there's a roof over the congregants' heads, not the pastor's wife, holding in anger for not being clued into her husband's conversion, and not a choir member who honestly and painfully questions the implications of her spiritual leader's revelations.
There was much lobby discussion about whether "The Christians" would find stages beyond this new play haven of a fest.
A smart, probing, non-judgmental drama about what happens when faiths collide? One with strong roles for a quintet of actors and the power of a church choir in support? A conversation-provoking play with a love story at its core?
I sincerely hope—and have faith—that productions of "The Christians" will be fruitful and multiply.
Also at the Humana Festival (in descending order of my enthusiasm for them):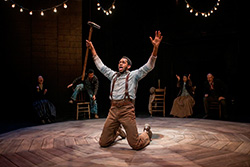 —The SITI Company's "Steel Hammer," a meditative, intensely performed piece exploring the myth of John Henry. This is the show that seemed to divide audiences the most. For some, it was sheer tedium (at one point, characters ran laps around the central stage for what seemed like ten minutes). I found it transcendent, original, and artistically stunning, with Eric Berryman giving a performance that I'd rank among the strongest I've ever seen on stage. I suspect "Steel Hammer" will be even stronger when live music is added for an upcoming West Coast run. What I don't know is how the company will have the stamina to keep this punishingly physical show on its feet.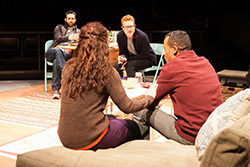 —Dorothy Fortenberry's "Partners," in which a success-averse woman takes an unhealthy interested in marrying off her gay friend while avoiding getting her own marriage and financial house in order. Sharp writing and interesting characters go a long way in helping this very producible show overcome the wishy-washiness of its central character. It's another reminder that theater doesn't have to be great to be very entertaining.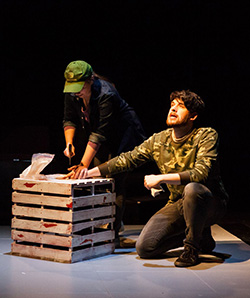 —The annual acting-intern populated show, the multi-authored "Remix 38" purports to offer new short pieces inspired by works done at past Humana Fests. That pretense worked against the show, inviting either a) a search for obscure connections or b) a feeling of ignorance for not knowing the springboard pieces. Thankfully, any knowledge of those original pieces proved unnecessary for enjoying a sharp range of work, enthusiastically and engagingly performed by an eminently castable group of young actors. I'm not usually a fan of overt "message" plays, but Justin Kuritzkes' "If…Then" made a big statement about Guantanamo Bay detainees in a bold and original way. Among other pleasures: Jackie Sibblies Drury's "and now I only dance at weddings," focusing on an unmarried woman at yet another celebration, made maximum use of the large-size cast, each of whom seemed able to turn a gesture, a phrase, or even a single word into a laugh or an ache….or both. And Basil Kreimendahl's "Finger Play (not a real title)" earning big laughs and cringes as a pair of displaced digits made the rounds thanks to a group of hapless characters looking for redemption.
—In the past, I've found the trio of ten-minute plays that are a staple of the Humana Festival to be some of the least interesting work offered. This time, though, a charming opposites-attract piece set behind a bakery, a semi-epistolary stages-of-man playlet, and a bit of silliness in which a trio of office drones find the remains of a co-worker in a copy machine, excelled. The most joyful performance of that evening, though, came during a presenation prior to the shorts when Topher Payne hilariously and warmly accepting his very real cash prize for emerging playwright prize for his play "Perfect Arrangement" (another work I hope to see in Indy soon).
—Less interesting, for me were the remaining two offerings: Jordan Harrison's "The Grown-Up," a what's-real-and-what's-not fantasy a la "Shipwrecked: An Entertainment" in which a young man grows older while chasing a magical glowing doorknob and Kimber Lee's "brownsville song (b-side for tray)," a flashbacked story of a young man killed in a senseless act of violence. Its theatricality-for-theatricality's sake, actors who seemed in different plays, and erratic, unclear writing left me pondering if Lee had seen "Fruitvale Station," "Boys in the Hood" and other more focused efforts to tell similar painful stories.
Please enable JavaScript to view this content.