"Five Brushstrokes," a giant sculpture installation by Roy Lichtenstein, will become part of the Indianapolis Museum of Art landscape, launched with an all-day party on Aug. 29. It consists of five elements, ranging from 19 to 40 feet tall.
And, yes, it kinda looks like bacon—which could actually make it more popular here in Indiana.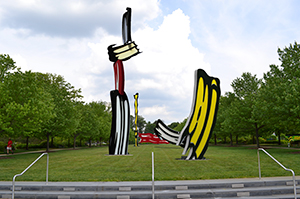 Lichtenstein himself never saw the completed work. Created as a commission for the Stuart Collection of the University of California in the 1980s, "Five Brushstrokes" was modeled but never fabricated due to its scale. After the artist's death in 1997, the Roy Lichtenstein Foundation was formed to further his legacy, including the development of an artist's proof of "Five Brushstrokes" (the one the IMA has acquired) and an edition of one, which stays with the Foundation.
Please enable JavaScript to view this content.