Had it been ready along with the rest of the commissioned artwork along the Indianapolis Cultural Trail, Vito Acconci's "Swarm Street" might be seen in a more positive light.
But given the year-long delay, the underwhelming piece of public art is more likely to generate a "so what?" rather than a "wow."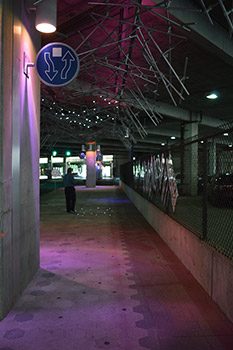 Don't get me wrong: There's wisdom in the installation of a light-based work in the problematic Virginia Ave. parking garage portion of the Cultural Trail. But the hodgepodge of open-steel framework above accentuates rather than reduces the claustrophobic feeling of the space. Ideally, the focus of attention, instead, would be on the thousands of sensor-driven LED lights in the pavement and above that "swarm" around you as you move through it. But on my daytime walks, the effect was like a lesser version of the airport's "Interactive Passage" (at least "Swarm Street" has a better name) and the technology didn't feel any more impressive than a decent high school science fair project.
I'm sure the effect improves as darkness descends. But why create a sculptural piece for a bicycle/pedestrian throughway that only has any kind of visual power when few people are going to experience it?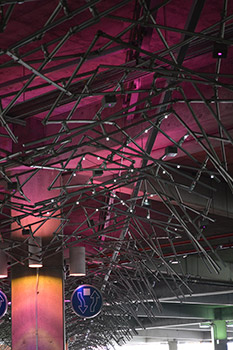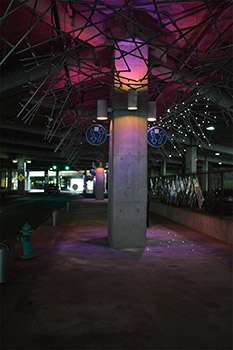 Please enable JavaScript to view this content.