Beauty was in ample supply in Dance Kaleidoscope's season opener (through Oct. 26 at the Indiana Repertory Theatre).
Anchored by a revival of DK's 1995 signature piece "Carmina Burana," the program opened with a trio of appetizers. First, the world premiere of "Rondo Capriccioso" a perfectly acceptable but unexceptional piece set to music by Camille Saint-Saens performed by students from the Indianapolis School of Ballet. Kudos to DK Artistic Director David Hochoy for allowing up-and-comers access to his company's audience.
That access paid greater dividends for the audience in "Minor Bodies," which showcased the choreography of Bloomington's Elizabeth Shea. "What was the story?" I heard a patron behind me ask afterwards, entirely missing the point that dance and storytelling aren't congruent circles. They are forms that sometimes intersect but don't have to.  Here, just-right dancers Ryan Galloway and Rachel Newbrough ran in parallel circles with eyes locked, gentle touched fingertips along the stage floor, held but slipped away after creative but not show-offy leaps and catches, and fit together in a variety of lovely ways. Hochoy here proves himself valuable not just as our city's leading choreographer, but also as an impresario with a keen eye for talent and wililngness to present it. Bravo.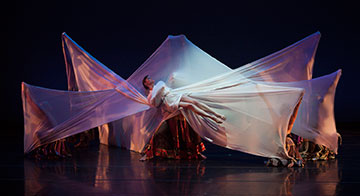 Crowe's Eye Photography
The first act ended with retiring DK dancer Liberty Harris in an understated, moving Hochoy dance set to Annie Lennox singing "E'vry Time We Say Goodbye." The meta-level of the choice of song wasn't lost on the enthusiastic, appreciative crowd.
The rest of the program was devoted to "Carmina Burana," DK's go-to piece offered every five years or so—including a 2009 production featuring live music.
It started boldly, as ritualistic, undifferentiated skull-capped dancers (slaves, perhaps?) moved to composer Carl Orff's regal bombast. Lengthy material was then wrapped around a dancer, at first appearing to prepare her for mummification. The binding, though, became a wedding dress of sorts and then, under her eye, a boy and girl paired. Soon we were out in the natural world (smoothly, beautifully transitioned thanks to Laura E. Glover's lighting) where Pan-like goat guys wooed winsome women and it was at that point that I hoped that the folks behind me had shaken their "What's the story?" thinking and given themselves to the dance.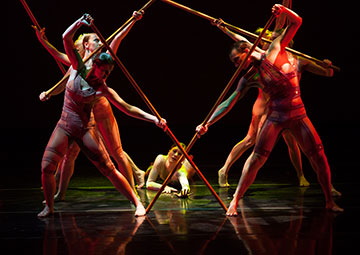 Crowe's Eye Photography
Plot you can find in a book or play. Dance, here, hinted at transformation, love, torture, sacrifice, crucifixion, self-doubt, liberation, oppression, peace and praise while resisting the need to tell a traditionally progressive story or lock dancers into playing singular characters. And while Liberty Harris certain got the loudest and most sustained applause at the extended and well-deserved curtain calls, "Carmina Burana" is a true ensemble piece.
It's a testament to Harris' 16 years with the company that her swan song as a DK dancer wasn't about grabbing the spotlight but about being a part of an ensemble that seems to get more unified with every performance.  
Please enable JavaScript to view this content.