A joyful and inspiring audience greeted  Zach Rosing Productions' "The Rocky Horror Show" at the Athenaeum (through Nov. 2) for the 10:30 p.m. show I caught on opening weekend.
Here, the crowd showed up to see something it essentially already knew in detail. The cult success of the film version, "The Rocky Horror Picture Show," is built from such familiarity—built from midnight-screening-after-midnight screening, inviting audiences to costume themselves, talk back to the screen, shoot water pistols in the air, and dance in the aisles to "The Time Warp."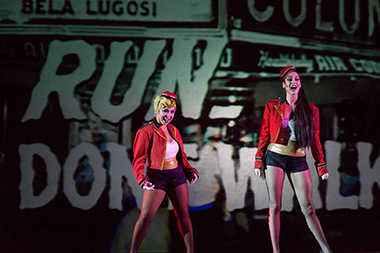 Uninitiated? "The Rocky Horror Show" tells the story of newly engaged Brad (Brandon Alstott) and Janet (the spunky Betsy Norton) and their encounter with "sweet transvestite from transsexual Transylvania" Frank N. Furter (Scott Keith). Also on board: Furter's created-on-the-slab boy toy Rocky (Logan Moore, ideal for the part) and assorted other riffraff—including Riff Raff (Damon Clevenger).
Rosing's production started off stunningly, with an inspired video credit sequence set to opening song "Science Fiction Double Feature." The only other time I can think of when a local theater so perfectly delivered video work was in Rosing's Indy Fringe show "The Great Bicycle Race." I can't wait to see the work he'll do when a theater with a bigger budget comes calling—and I have no doubt that will happen soon.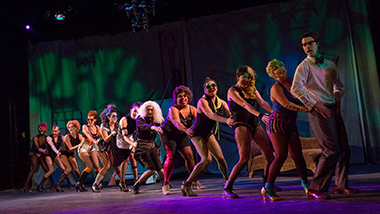 Here, Rosing's video magic was helped considerably by a six-piece band so dead-on that I had to check the program to see that the music was, yes, being performed live.
Like the movie, the show itself lost some of its verve after the first half. But the game cast, under the guidance of Director Zack Neiditch, kept matters briskly moving toward its nonsensical climax. Scenic designer Nolan Brokamp made the best of the Athenaeum's challenges. Hair/Makeup Designer Daniel Klingler had a field day, particularly with the dancers. Paige Scott cross-dressed in the opposite direction from Furter, offering fun turns as both Eddie and the wheelchair-bound Dr. Scott. And, as the narrator, Dave Ruark—helped by smart Rosing camerawork and editing—was pitch-perfect in a running-gag video appearance. 
In short: Rosing, Neiditch and company should do "The Time Warp" again … every year.
Please enable JavaScript to view this content.