For "The Next Wave" (through May 17), Dance Kaleidoscope moved to the work of four choreographers, each with a unique vision. The result: A diverse evening that not only—as the title suggests—pointed toward the future, but brought pleasure to the now.
Lucy Bowen McCauley's "Tableaux de Provence," set to the alto-sax-dominate music of Paule Maurice, didn't exactly evoke thoughts of France (admittedly, I've never been). But it did kick the program off with soothing elegance.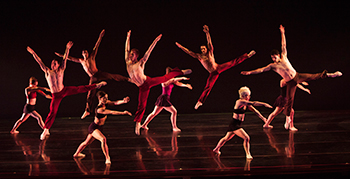 "Taking Watch" – Photo by Crowe's Eye Photography
The second piece, Stephanie Martinez' "Taking Watch," took a bolder approach, opening with a line of dancers seated, watching another. Judges? A wall?  The tension was palpable until she broke through, scattering the dancers, whose varying energies somehow added up to a single, exciting image. The breaking out and reincorporating of the dancers into the whole made for a strong showcase for individuals as well as a reminder of how well the DK tribe works together. At the same time, perhaps, it offered a visual metaphor for the individual's role in society. (In non-narrative dance, I'm always cautious about imposing specific meaning on what works best as a wordless experience.)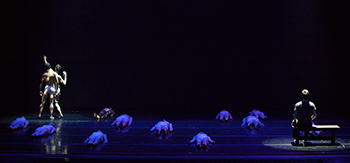 "Lake Effect Snow" – Photo by Crowe's Eye Photography
The second act started with a wallop: Brock Clawson's world premiere "Lake Effect Snow," featuring a dramatic lighting design by Laura E. Glover. Between sharp blackouts, circles of light illustrated a couple on a bench, a swimmer, and a group of dancers. From those basic forms erupted a sometimes creepy, often beautiful, occasionally casually violent, always searching series of movements seemingly on land and in the water. Does it take place over a summer? A moment? A lifetime? I immediately wanted to see this visual knockout again.
Instead, the evening rounded out with another world premiere, Kiesha Lalama's "Catapult." With a name like that, one would have a right to expect high-flying excitement. Instead, Lalama offered a springy, wind-blown piece that sometimes bordered on line dancing in some sort of magical nightclub. That's not to disparage the fun piece, which channeled a different kind of energy than I'm used to seeing in DK. That's certainly one of the benefits—for both audiences and, I would imagine, dancers—of accenting the accomplished, ongoing work of DK Artistic Director David Hochoy with the talents of outside choreographers.
Please enable JavaScript to view this content.