It's telling that the title song that kicks off "American Idiot," the musical being given its local premiere at the Phoenix Theatre (through July 5), is anchored in the negative. "Don't want to be an American idiot," its characters sing. But what they don't do is articulate what they do want.
Johnny (Spencer Curnutt in a very strong Phoenix debut), Tunny (Lincoln Slentz) and Will (Matthew Lee) don't want to live in suburbia. They don't want to be like their parents. They don't want to take whatever is shoved on them by TV. And so they try to escape. One's plan ends with the pregnancy of a girlfriend. Another tries to find meaning in military service. The third hits the big city, finding both love and drugs.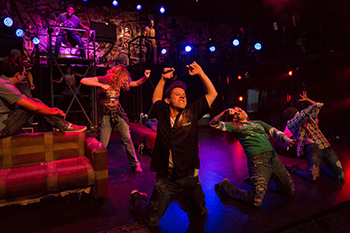 Photo credit Zach Rosing
Through the skillful work of the Phoenix cast and production team, building on that of the show creators Billy Joe Armstrong and Michael Mayer, "American Idiot" becomes far more than just a musical complaint session: It becomes a terrific, intensely rocking piece of musical theater, worthy of a place on a short list with "Hair" and "Hedwig and the Angry Inch." If anything, I wish the Phoenix had cranked the volume even more so I felt it in my toes as well as my heart and head.
One of the strengths of this musical—and the Phoenix production—is that it doesn't try to provide excuses for the aimlessness of the three young men at its core. It doesn't try to psychoanalyze. And, at the same time, it doesn't romanticize. "Rent," this isn't. The very ordinariness of these guys is what gives them weight.
There's a telling moment when Johnny explains how he acquired the money for his escape from the suburbs—robbing a convenience store. Moments later, he tells his disbelieving friend that he actually borrowed the money from his mother. It's a moment both funny and sad, underlining Johnny's need to rebel, whether he has something solid to push off of or not.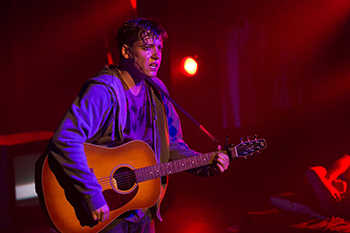 Photo credit Zach Rosing
While "American Idiot" has define-a-generation links to "Hair," the Broadway show it most recalls is the Billy Joel/Twyla Tharp dance piece "Movin' Out." That, too, focused on high school friends who take different paths into the world. More to the point, though, "Idiot" and "Movin' Out" are each stylistically true to themselves. Each creates its own distinct sonic and movement vocabulary.
Of course, the moves in "American Idiot" look nothing like those of "Movin' Out." Its choreographic palette consists largely of a kind of controlled thrashing. Such dancing, one of the strengths of the tour, loses some of its impact and occasionally feels inorganic in the tighter Phoenix space but, for the most part, this production maintains the physical, aggressive core of the original vision. And there's theatrical magic here in many of the stiller moments, especially during "21 Guns." Television screens are smartly incorporated into a set that can feel like the back of a theater, a prison, a lonely urban landscape or the inside of a short-circuited brain, depending on the choices of the lighting designer (Michael Moffatt), video programmer (Zach Rosing), and directors (Bryan Fonseca and Emily Ristine).
And kudos to the Phoenix-ite responsible for deciding to include bios of the musicians in the program. While I realize that space limitations and printing budgets keep such info out of most programs, it's nice to see their integral (and on-stage) involvement here acknowledged.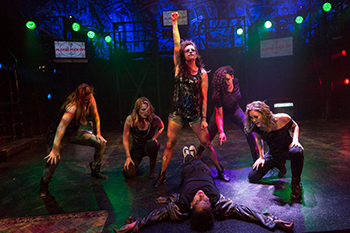 Photo credit Zach Rosing
(For more thoughts on rock musicals—and a list of my top 10 musical theater songs you can crank up even with your rocker friends in the car, click here.  And, FYI, some of the plot points and general thoughts are cribbed from my previous writing about the "American Idiot" tour that came through Indy a few seasons back.)
Please enable JavaScript to view this content.