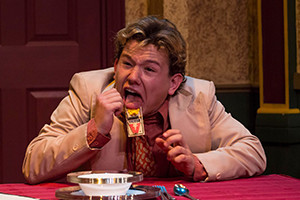 It's tough to tell if more criminal or theatrical laws are broken in Richard Bean's "One Man, Two Guvnors," having its local premiere at the Phoenix Theatre (through Oct. 18).
The play, loosely adapted from the commedia dell'arte classic "A Servant of Two Masters," concerns a somewhat dim opportunist who finds himself taking on confusing assignments from two bosses, both of whom are enmeshed in a murder scheme.
While the first act ends in physical comedy that makes Benny Hill look as subtle as Noel Coward, there's nothing as pratfall-y in the second. There's audience participation, to a degree, but only for parts of the show. (On opening night, incorporating established Phoenix Theatre folks into an audience interaction sequence proved a distracting mistake.) The play is filled with joyfully infectious skiffle music—it landed a nomination for a Tony Award for Best Original Score and spawned a cast recording—even though it technically isn't a musical.
Clearly, consistency isn't a priority here.
At the Broadway production (with a star turn by James Cordon, now occupying a prominent late-night talk show chair), I could barely make heads or tales of the plot, but I did laugh heartily. At the Phoenix, the plotting is a bit clearer but the music (if I'm not mistaken) incorporates more actual period music and less wacky, Spike Jones-ish instrumentation. The laughs are solid if not steady—something the show's book bears at least partial responsibility for.
The show is helped considerably by the leprechaun-ish presence of Nathan Robbins (does anyone else remember Tommy Steele?) in a lead performance particularly impressive to anyone who saw him in a very different role in last season's "The Cripple of Inishmaan." Whether wrestling with a heavy suitcase or wailing "The Brighton Line" with the band, his Francis Henshall is a force of nature. Despite Henshall's lack of a moral center, it's easy to root for him to get what he wants, whether it's a sandwich or playful bookkeeper Dolly (a fab Jolene Mentink Moffatt).
Although clearly too young for the part, Rob Johansen is a delight as an elderly waiter, Michael Hosp makes linguistically challenged murderer Stanley Stubbers welcome on every return to the action, and John Goodson is a kick in multiple roles.
I don't like making assumptions, but I'd bet money that the show will become tighter—and stronger—as the run continues.
Please enable JavaScript to view this content.