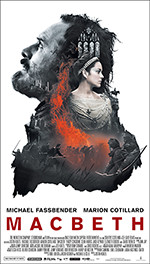 Michael Fassbender and Marion Cotillard star in a new cinematic version of Shakespeare's classic "Macbeth." 
And, "filled with the milk of human kindness," I've got a stack of passes to give away to a sneak preview on Dec. 7 at Keystone Arts Cinema.
All you have to do is send an email to lharry@ibj.com with Macbeth in the subject line. I'll send a pair of electronic passes that you can print at your convenience. At least, I will until supplies run out. So "screw your courage to the sticking-place" and act quickly before "what's done is done."
I hope to see you there "in thunder, lightning, or rain" (or even if the weather is nice).
Please enable JavaScript to view this content.