The most hallucinogenic theater offering in Indy in 2015 didn't come from NoExit Performance, Know No Stranger, or one of the fringier Indy Fringe shows.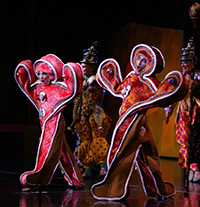 It comes from the otherwise fairly conservative Broadway in Indianapolis series via the touring show "Cirque Dreams Holidaze" (at the Murat through Dec. 20).
If you think tap dancing Santas at the Indianapolis Symphony Orchestra's "Yuletide Celebration" are wild, well, brace yourself for this one.
The plotless extravaganza melds acrobats with Christmas tropes creating a world where a skater spins on a tiny rink—with another skater spinning in the air attached only by their necks, where Mrs. Claus uses each of her limbs to perform a different kind of juggling/spinning/balancing, and where reindeer jump rope.
Not content to put such acts in the spotlight, "Holidaze" includes on-stage singers—delivering lame lyrics in surreal costumes—but also allows candy canes, gingerbread men (in costumes that call to mind Eddie Murphy's Gumbo suit), snowmen, and other less-specific creatures to wander in and out in a kind of surreal kaleidoscope of image and sound.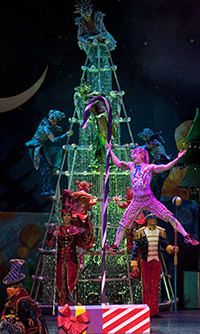 All of which, if you are in the right mood, makes for a very entertaining show—more so, I'd say, than the last few Cirque du Soleil shows that have come through town. Only briefly did I feel the odd apathy that has kicked in at arena Cirque shows when seeing a parade of people do one remarkably thing after another to a point of where they numb the crowd. ("Cirque Dreams Holidaze," to be clear, is not affiliated with Cirque du Soleil.) And there's a unique theatrical pleasure in having absolutely no idea what a show is going to throw at you next.
That being said, I still don't know what to make of the concluding sequence in which a shirtless guy and an angelic woman wrap themselves around cloth—and each other—to soar semi-erotically over the front row folks…to the tune of "O Holy Night."
Beat that, NoExit. 
Please enable JavaScript to view this content.