As you may know from my annual Gen Con column, I'm a bit of a game geek—tabletop games, that is, the kind that allow face to face friendly competition.
While I may be chiming in too late for your holiday shopping, there will be plenty of winter nights ahead when the TV can be turned off, the cell phones put aside and the cards dealt. Or dice rolled. Or whatever it takes.
To that end, here are the twelve best games I was introduced to this year.
Some may have earlier-than-2015 initial release dates but all are still available—although you may have to go beyond your big box retailers to find them at your friendly neighborhood game store such as the Game Preserve (multiple locations), Game Paradise (Fountain Square), Saltire Games (Pendleton Pike), or the new Family Time Games (Pike Twp.).
12. Codenames (Czech Games Edition). There are 25 words on the table, but only some of them belong to your team. You know which ones they are; your partner doesn't. Your task: Give one-word clues to get your partner to guess those words without inadvertently uncovering the other team's words. A huge hit at Gen Con, selling all of the 750 copies available. I'll have to wait to get one for my permanent collection. Warning: Could cause partner battles because, really, how could he not know that?
11. Thieves (Calliope Games) . In this card game, you are part of a band of thieves trying to score as much loot as possible. The challenge: If the cops show up, the person with the biggest stash loses it, meaning that the goal is to stay in second place. Of course, when someone else is in the lead, you make every effort to summon the law. Back-stabbing, larcenous fun.
10. Telestrations After Dark (USAopoly). One of the best party games in recent years is Telestrations, a kind of whisper-down-the-lane challenge where a player rushes to draw a given word or phrase, passes it the next player who has to write down what he or she thinks it is, then passes it to the next who has to draw that word and so on. This version offers words open for more adult interpretation. It's Telestrations for the Cards Against Humanity crowd.
9. Sushi Go! (Gamewright). This one is actually from 2013 but didn't hit my table until this year. Pick one ingredient card from your hand, pass the rest, and try to build the best sushi plate. Simple? Not when someone else wants is also collecting nigiri. An appetizing game for kids and adults.
8. Spike (R&R). Ticket to Ride has become one of a handful of designer games to make the leap to the mainstream market (by that I mean games you can find on the shelves at Target, Walmart, etc.). If you've tried Ticket to Ride and want to add a few complications, consider this train game. In Spike, you do more than just lay track between cities—you also have to pick up and deliver goods while playing the commodities market. Alternate paths to victory make taking repeated rides probable.
7. The Game of 49 (Markee Games). Auction gaming meets Connect Four in this game where each players starts with $49 and bids, in turn, as cards are flipped. Buy a number and you get that spot on a 49-space board. Your goal is to connect four spaces, which becomes difficult as money gets tight. But when a payoff card hits, the more spaces you have covered the more money is replenished. Bonus pleasure if you appreciate the challenges of money management.
6. Splendor (Asmodee). Hey, Renaissance person, in this game, you collect jewels to buy jeweled cards, which in turn can be used as permanent jewels in an effort to buy more expensive cards, which hold victory points. Build up a strong enough card collection and you may attract patrons who give you bonus points. Once the simple mechanics of the game are learned, this one is enormously replayable and a great way to introduce non-gamers to the pleasures of designer games—especially those folks who don't like games where you can directly attack an opponent. Cheaper than buying actual jewelry.
5. Machi Koro (Pandasaurus). In this Japan-birthed card game, you start with a wheat field, a bakery, and a die. The goal is to grow your city, which requires building more amenities—which requires earning income. Each building you buy has income potential based on the role of the dice but your role can mean more money for your opponent. Fast-paced with all-players included in the action every turn.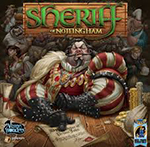 4. Sheriff of Nottingham (Arcane Wonders). Why should Robin Hood have all the fun? In this game, players take turns being the sheriff. Each of the rest packs a sack with goods and declares the contents to the sheriff, who must determine if an attempt has been made to smuggle contraband past him. Sneakiness is rewarded in a game that's not for bad liars.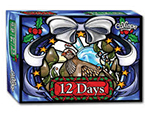 3. 12 Days (Calliope Games). Recently republished, this 2011 Christmas-themed card game is simple to play but tricky to master. In each hand, you "gift" a card to your neighbor, then bid on the top of a set of 12 numbered victory point cards. Once all those cards are bought, though, you score more points for the cards left in your hand. If you have the most 9s, you get 9 points, etc. The challenge is balancing your buys with your need to preserve a strong hand. Quick and fun with enormous replayability…and no risk of regifting.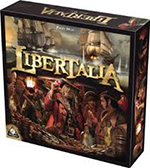 2. Libertalia (Asmodee). Each player starts with the same set of cards, with each ranked card identifying a different passenger onboard a pirate ship. You each secretly select a card each "day" with the lowest ranking card getting to act first and the highest rank taking first shot at that day's treasures. The fun comes from each cards special abilities, which could knock out higher-ranked cards, score extra points for past-played cards, raise discarded ones from the dead, and more. For players not afraid of cutthroat captain-to-captain competition.
1. Colt Express (Ludonaute). No, it has nothing to do with Indy's pro football team. In this Western-themed game, you are a bandit on a train trying to score loot while avoiding the onboard marshal. While strategy is important, your plans can be knocked for a loop by a stray bullet from the lawman or a punch from a rival. A unique two-level "board" allows action in and on top of the train. I've gotten tons of play out of this one since Gen Con with only one player who tried to circumvent the rules by begging her husband not to steal her loot. Wild, wild fun for up to six players.
Please enable JavaScript to view this content.