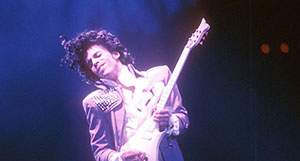 Reacting quickly to the April 21 announcement of the death of music icon Prince, IU Cinema and the Indianapolis Museum of Art have both scheduled screenings of the 1984 film "Purple Rain."
Written by and starring Prince, "Purple Rain" was the first and most popular of his films, which also included "Under the Cherry Moon" and "Graffiti Bridge."  The film also features Morris Day and Apollonia and is rated R.
The IMA will show the film at 4:15 on April 23. Tickets are $5 but are expected to sell out quickly. Details here.
IU Cinema screenings On Monday, May 2 at 5, 7, and 9 p.m. are free. Details here.
Please enable JavaScript to view this content.