The cast of Second City's "Fool Me Twice, Déjà vu"
When I made my inaugural visit to Second City back in the mid-80s, edgy sketch comedy for the masses was pretty much limited to "Saturday Night Live" (we called it by its full name back then) and SCTV.
Now, with comedy clips regularly showing up in our newsfeeds and people making funny on a wide variety of platforms, it's trickier for an ongoing show to feel timely and relevant and still generate laughs.
Yet ever since my first pilgrimage to the Chicago institution that spawned generations of comedic talent from Alan Arkin through John Belushi to Tina Fay, I've tried to check in every few years to see what the latest iteration of the troupe is up to and how it is faring in a world that seems increasingly packed with comedic offerings.
Every time, I emerge impressed—and a bit exhausted from laughing.
For my latest Second City visit, I decided to go all in, with plans for my teen son and I to catch, in one day, all three of Second City's shows—the main stage production, the "Best of" show featuring members of the touring companies, and the ETC show on the second stage. We'd even stop in to the new on-site 1959 Kitchen & Bar in between.
The title "The Best of Second City' may lead patrons to believe that they are getting a retrospective show of the past 50-plus years. While I recognized a few sketches from past reviews, most of the material seem fresh and of-the-moment, including plenty of Trump-bashing and gun-law material. Standouts included former IU student Julia Weiss and the quirky (and fascinatingly named) Emily Fightmaster. But the entire cast delivered, particularly in an out-there scene involving a "doo-doo brush." It's best that I not explain further.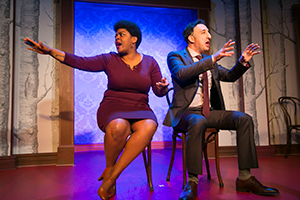 The collective talent shined even brighter in the 104th mainstage revue, "Fool Me Twice, Déjà Vu." For those unfamiliar, Second City's shows are developed out of improvisational exercises, but the shows themselves actually feature only a small percentage of made-up-on-the-spot bits. After an eight-to-ten-week rehearsal period where new material is honed, themes emerged and a program is put together. About every six months or so, that new revue is put up on the mainstage and given a title that doesn't always have anything to do with what's on stage.
The title of the latest mainstage revue, however, does directly relate to the material. While the first half has a glorious randomness to it, the second half offers continuations, alternative perspectives, and other déjà vu-inducing variations on those same scenes. In the first half, for instance, a dad berates his at-bat kid during a baseball game. In the second, we get the perspective of the pitcher and her mother/coach.
Some of the material is blunt—including an unexpected twist to the usual "Anyone here from…" call-out from stage. Others are surprisingly playful—who doesn't appreciate a good Uno or sheet cake reference? With quick blackout sketches balanced by longer pieces—including a bizarre seduction scene that fearless Sarah Shook takes to gleefully odd extremes—the show moves briskly and unflinchingly toward its surprisingly empowering musical end. A bit using audience-supplied cell phones not only was very spur-of-the-moment funny, but also proved telling about the willingness of people to turn over their personal information. (My phone stayed safely in pocket, thank you.)
If you are looking for a potential break-out star, that would be Rashawn Nadine Scott, who demonstrated a remarkable ability to turn a word or a look into a big laugh. Her self-reflexive commentary about speaking for every black woman in America proves one of the shows sharpest running gags. But in its mix of talent, material, and energetic direction, I didn't feel fooled at all by "Fool Me Twice, Déjà vu."
For the 11 p.m. show, "A Red Line Runs Through It," on the ETC stage, we were met with the most diverse cast I've seen on a Second City stage—a refreshing change since, for much of its history, Second City companies have been dominated by white males. We were also met with less focused and more Chicago-centric material, some in need of editing, that had more bite but fewer laughs than the earlier two shows.
Comedy fatigue? Perhaps a bit. And it didn't help that a neighboring patron seemed to want everyone in the place know that she got every joke and that each and every one was the funniest thing she had every heard. Forceful clapping accommodated her over-laugh and as much as we tried to stay focused, such demonstrative reaction cut into the pleasure of the program. Under other conditions, we would have gone the distance. But having experienced some of the best of what Second City has to offer, we opted to cut out at intermission, with no disrespect intended to the company and the work.
For more information on all of Second City's offerings, visit www.secondcity.org.
While it's easy to resort to the familiar when visiting Chicago, I also try, when visiting, to expand my horizons. This time, I did that with a first-time visit to Writers Theatre in the northern suburb of Glencoe.
I'll get to the current production, the Stephen Sondheim/George Furth musical "Company," in a moment. First, though, I'm compelled to acknowledge the building itself, the new home for the established company.
Situated just across the street from the train station and steps from downtown, the theater is situated between two small parks, embracing the natural elements around it. Incorporating Japanese forest grass, a birch grove, a hedgerow and Boston ivy, it offers lobby dwellers floor-to-ceiling windows and a plenty of stepped seating for comfortable pre- and post-show conversation. There's a rooftop terrace, too, with scuppers to collect rainwater, which falls into limestone slabs into the garden.
Within this sophisticated-but-not-intimidating structure are two theaters to house the work of the acclaimed company.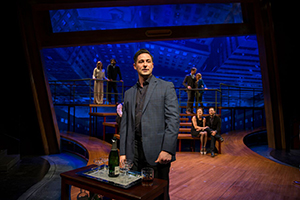 Musical theater lovers know "Company" (through July 31) as the show that firmly established Stephen Sondheim's reputation as a composer/lyricist to be reckoned with. Eschewing traditional plotting, it combined longer scenes and pithy songs to tell the loosely-structured story of thirtysomething bachelor, Robert, and his five sets of paired-up friends.  
Its lack of conventional plotting has long-proved problematic for "Company" even as it has earned a loyal following, but Writers Theatre's production comes closer than any version I've seen.
Much of the credit goes to the casting. Personalities have to pop in order for us to keep things straight. There has to be a clear push/pull in each of the relationships that keep Robert on the fence about whether commitment is the way to go. And similar attraction/repulsion has to be present in the intimate relationships we see Robert engaged in. Like Robert, I'd have a hard time picking a favorite from among his married friends and available—and unavailable—lovers. Among the gems, the pre- and post-coital maneuverings with stewardess April (Jess Godwin) and the glorious musical breakdown of heading-for-the-alter Amy (Allison Hendrix).
"The Ladies Who Lunch" still feels like it's been air-lifted from another show. And the song is followed by a scene that never quite seems to achieve its aim in defining a transformative moment for Robert. And anachronisms abound in moving this '70s show to the present day without updating the vocabulary. But none of that proves an obstacle to enjoy a landmark show filled with people—with company—that I'd happily spend more time with. 
Please enable JavaScript to view this content.