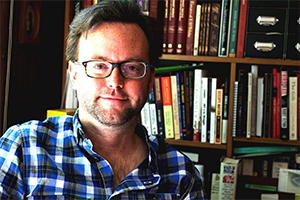 Storefront Theatre of Indianapolis Artistic Director Ronan Marra
Photo Credit: Mark Larson.
While he hasn't yet found a storefront to house it, Chicago producer/director Ronan Marra is launching Storefront Theatre of Indianapolis, setting fall 2017 as a target for its first production.
Marra co-founded Chicago's Signal Ensemble Theatre, which had a 13-year run before disbanding in early 2016. When its folding was announced, Chicago Tribune critic Chris Jones wrote about some of the stronger work he saw from the group. "What do all these shows have in common? They were all new plays," wrote Jones, "they all took guts to produce and they all were executed with honor, even when they flopped." Jones added: "Cultural life of Chicago enhanced for 13 years. Job well done."
With a 501c designation and a board of directors in place, Mara is planning a two-show 2017/18 season using existing theaters while searching for a neighborhood location—Fountain Square is at the center of his radar right now—for a permanent home.
"A storefront theater is very small—just 40-50 seats," he said. "It's the most intimate theater, everyone is very close to the action. That's the biggest thing for me. It's strong in collaboration and ensemble work." He's also committed to paying all of the artists involved and wants to be offering Equity contracts as soon as possible.
Like Signal Ensemble Theatre, the Indianapolis company will focus on new work and plays not yet seen locally, primarily by women, minority, and foreign playwrights. "There are a lot of plays that deserve to be seen that aren't getting the chances they should," he said. As to his taste in plays: "I gravitate toward slightly darker material or darkly funny material."
More specifics are promised in early 2017. 
Please enable JavaScript to view this content.