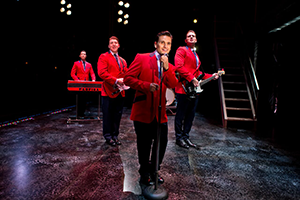 Consider this:
The Four Seasons, in various incarnations, first topped the charts in 1962 with "Sherry" and last rose that high with "December, 1963, (Oh What a Night)" in 1975. That's about 13 years.
"Jersey Boys," the Broadway musical about the Four Seasons, premiered at La Jolla Playhouse in 2004 prior to opening on Broadway and touring. That's about 13 years.
So the show has been running about as long as Frankie Valli and the guys were cranking out hits. 
Did you somehow miss the phenomenon on previous tours that came through Indy? Or did you enjoy the show and want to go back?
Well, I've got a pair of tickets to give away to "Jersey Boys" for its upcoming visit to Clowes Hall, Feb. 28-March 5.
All you have to do is email me at lharry@ibj.com with Jersey Boys in the subject line and a city in New Jersey in the body text. I'll pick a winner at random.
P.S.: I'm a Jersey boy myself, who happened to be born in late December back in '63.
Please enable JavaScript to view this content.