Waves of excitement were evident in the Murat Theatre audience on opening night of the national tour of "Disney's The Little Mermaid" (anchored through Feb. 12). After all, the beloved film has become a staple since it turned Disney animation studios around in 1989, opening the flood gates for "Beauty and the Beast," "the Lion King," and more.
It's no surprise, given the stage success of those two, that Disney would attempt to create a live version of "The Little Mermaid" as well. That production played on Broadway, to significantly less acclaim and audience interest, from 2008 to 2009.
To be clear, what's onstage at the Murat is not quite a touring version of the Broadway show. Not just reduced in scale as many tours are, "The Little Mermaid" has a reconfigured book, substituted and rejuggled songs, and a new design scheme. Even the mermaid tails have been rethought.
Most of the Equity cast performs nobly, with Diana Huey's Ariel and Matthew Kacergis' Prince Eric, each in exceptionally good voice, valiantly bringing drive to what could be, well, cartoon parts. Melvin Abston does the expected as Sebastian the crab, but with more-than-occasionally drops in clarity.
Less successfully transitioned to the stage is Ariel's fish buddy Flounder (Conner Russell), who has been turned into the stage equivalent of a Disney Channel teen sidekick, not-so-secretly in love with the leading lady. Partner that miscalculation with a voice as annoying as Pinocchio in "Shrek" and one of Disney's most charming characters is gutted.  As for King Triton (Steve Blanchard) and sea witch Ursula (Jennifer Allen), they have been given more motivation here—they are now siblings—but their battle seems muted. And Triton really could use some lessons in how to menacingly wield his trident.
Movie purists be warned: Flounder's personality and Ursula's motivations aren't the only things changed here. Max the dog is gone as well as the dramatic shark chase and the whole Ursula-in-disguise-as-Vanessa plot element. There's also a reduction in the epic nature of the film's ending and a noble effort—an unsuccessful one, alas—to make Ariel more the hero of her own story.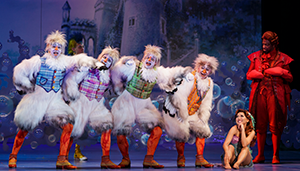 Adaption, of course, is necessary to successfully make a movie work on stage. But, here, most of the additions just get in the way, bloating the show to 2 ½ hours. In contrast to the swiftly swimming movie, the addition of a dozen or so new songs to the film score weighs the show down to a point of sinking. The familiar tunes sill perk up the ears, but only "Kiss the Girl" brings anywhere near the joy of its cinematic counterpart.
Nowhere is that more obvious than in "Under the Sea," a potential showstopper that runs out of energy and invention early in the number, never coming near its explosive possibilities met by the "Be Our Guest" sequence in even a community theater production of "Beauty and the Beast."
Please enable JavaScript to view this content.