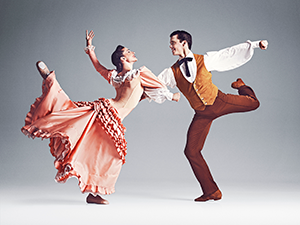 Note from around the A&E world:
—Dance Kaleidoscope's 2017/18 season includes a follow-up to its popular "Divas" show from this season. The sequel, next April, will feature DK dancers choreographing new work to a soundtrack of male divas or, as the title of the program calls them, "Divos (The Men)." Also in the lineup, a return of DK's Beatles show "Magical Mystery Tour," Martha Graham's "Appalachian Spring" paired with David Hochoy's "The Rite of Spring" (happening, appropriately, in the spring), and a new Christmas-themed show.
—"Mini Golf at the IMA" will be back for a second round, with all new holes created by local and regional artists. This time, rather than Indiana history, the course will be themed around nature. Bees, prairie grass, a fallen tree, and a mastodon skull are among the planned obstacles. Tee times begin May 28.
—Indianapolis laser artist Todd Svendsen, aka TODD, will have his work featured at the first Superfine! Art Fair, NYC. Billed as a "curated, hyper-contemporary art fair," the event is being held May 4-7. Details here.
—The Public Collection, the book-sharing project with artist-created structures around the city, has a new station. This one, developed by Muncie-based Projectione, is located outside the Alexander Hotel at CityWay.
—Groundbreaking on the new Phoenix Theatre will be May 2 at 1 p.m.
—Look for a rundown of new and added attractions at locations throughout Indiana, including a mascot museum and a new hydroplane race, in the Focus section of the April 4 IBJ.
Please enable JavaScript to view this content.