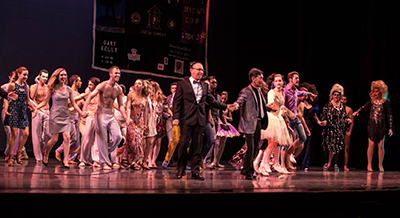 The final bows at Spotlight 2017 – Photo credit: Freddie Kelvin
Spotlight, the annual performing arts smorgasbord benefiting the Indiana AIDS Fund held April 24 at Clowes Hall, had more than its share of highlights. And, since it's a benefit event, I'll just focus here on those high points.
The Indianapolis Symphony Orchestra fought valiantly against latecomers and chatty audience members, opening up the show with Dvorak's "Slavonic Dance No. 8 in G Minor." But the crowd didn't fully settle in until actor David Alan Anderson followed with a riveting performance of "Factoring Forgiveness," a monologue by Sarah Layden from the IRT's "Finding Home." Told from the perspective of a classmate of Ryan White, it hit the magical sweet spot combining outstanding writing, top-notch performance, and material that added to the occassion.
Half of the acts had a dance component, which included fully professional companies, energetic kids, and ambitious amateurs. The standout for me was David Wright from Indiana Ballet Conservatory, whose technique, energy, and personality elevated the pas de deus from "Le Corsaire." 
With all the movement going on, it was refreshing to have Rayanna Bibbs, from the upcoming Footlite Musicals production of "Dreamgirls," stand still and deliver the vocal pyrotechnics of "I am Changing." 
The real winner, though, was the Indiana AIDS Fund, thanks the the generosity of the performers, the organizers, the sponsors, and the audience. Total TBA.
Please enable JavaScript to view this content.