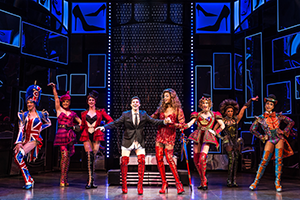 I never thought I'd yearn for the subtlety of Jim J. Bullock.
If you remember Bullock, then you were a TV watcher in the era of "Too Close for Comfort" and "The Hollywood Squares" and let's just say that he wasn't known for his delicate delivery.
Yet here he is, six actors down in the cast list for the national tour of "Kinky Boots" (at Clowes Hall through May 21), and he gives the most human performance in the show.
Not that there aren't other pleasures.
Based on the sleeper hit film, the big-hearted "Kinky Boots" features original songs by Cyndi Lauper (good for a first-timer but lucky to win a Tony Award in an off-year) and a book by Harvey Fierstein (unable to duplicate the pleasures of "La Cage Aux Folles").
In the tradition of other blue-collar musicals "The Pajama Game," "The Full Monty," and "Billy Elliot," it begins with trouble in the workplace. In this case, the death of the owner of a British shoe factory leaves his son, Charlie (Curt Hansen), as the reluctant boss who discovers that the finances are a mess and the prospects worse. On the brink of shutting down, he accidentally encounters Lola (Timothy Ware), a drag queen in need of stronger heels. Voila! An idea is born.
A dance on conveyor belts is original, fun, and appropriate to the show, although it doesn't effectively climax. Rose Hemingway is delightful—and gets one of Lauper's catchiest songs, "The History of Wrong Guys"—as Lauren, the crush-on-the-boss factory worker. And "Not My Father's Son," the bonding song for Charlie and Lola delivers the goods.  
It's a pleasure to see a dance-heavy show with such a variety of sizes and shapes in the cast. The show's message of tolerance is a welcome one. And Lauper knows how to twist the heart with a lyric ("And the bet part of me/Is what he wouldn't see" sings Lola in one particularly effective moment). Alas muddled sound did nobody any favors, particularly in the group numbers.
With a relatively obstacle-free story where just about every plot point resolution is a foregone conclusion, act two developments—particularly Charlie's angsty big number—seem unearned. And, as is often the case, at this point in the tour, the performers seem to have been encouraged to go big.
Which brings me back to Jim J. Bullock as factory foreman George. With few lines, he's a constant, grounding presence.  
I suppose it's too late to have him fall for Lola. Or even give him a solo number.
——
Playwright Charles Smith has a rich history of productions in Indianapolis, with "Sister Carrie", "Les Tois Dumas" and Gospel According to James" all having been staged at the Indiana Repertory Theatre.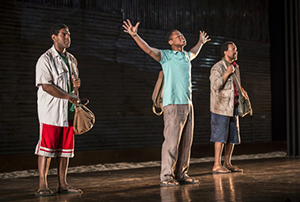 Here's hoping that "Objects in the Mirror," his rich new drama, follows suit.
The play (having its world premiere at Chicago's Goodman Theatre through June 4) is both epic and intimate, telling the story of Shedrick Yarkpai, a Liberian refugee sorting out his past and his future after a harrowing escape to Australia.
That's not a spoiler. The play begins with Yarkpai telling his story to a lawyer whose house he is painting. While that sort of flashback structure can reduce lesser plays to simple storytelling, Smith strategically keeps the hows hovering. Given the horrors of the Liberian civil wars, it's not surprising that stomach-churning incidents are described, but Smith's doesn't lose sight of this being a play about family and identify told primarily through two men, Yarkpai and his uncle, John Workolo. Whether working together or at odds, their relationship drives the piece.
Daniel Kyri and Allen Gilmore are ideal in the roles. Chicago theatergoers know Gilmore's rich history with the town's leading theaters. But Kyri, in his Goodman debut, is a revelation, taking Yarkpai from adolescence to young adulthood and proving as compelling handling the thinking-on-his-feet escape in the first act as he is wrestling with the character's yearning for identity in the second. And hats off to the show's designers, who make the continental transformation visually stunning.
"Mirror" avoids showing us a clear path to a right answer to the core dilemma. And Smith knows that detailed human beings are more interesting than saints. I didn't know until after I saw the play (I like to go into new plays cold) that it's based on a true story. I now admire Smith's skillful work even more.
——
LaChanze, the Tony-winning star of Broadway's "The Color Purple," brought a jazzy set to the Cabaret's temporary home at the Indiana Landmarks Center on May 5. She explained that her offering was a sampling of three distinct cabaret programs she has created and the result, while musically outstanding, was structurally disjointed.
Still, when a tribute to Diane Ross includes the unexpected inclusion of "Be a Lion" (from "The Wiz") and "It's My Turn," it's clear that LaChanze isn't following anyone else's rulebook. Other highlights included songs from both "The Color Purple" and the actress' breakthrough "Once On This Island" as well as a bring-down-the-house closer to Peter Gabriel's "In Your Eyes."
Please enable JavaScript to view this content.