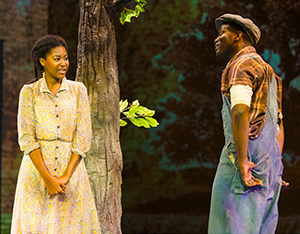 Photo credit: Richard Anderson
I've set a goal for myself of visiting at least three new-to-me regional theaters every year. I've also set a goal of trying to get to as many new plays as possible.
Those two missions coincided with a stop recently at Baltimore Center Stage for the world premiere of Nambi E. Kelly's play "Jazz," based on the novel by Toni Morrison. The play runs through June 25.
First, a bit about the theater.
Baltimore Center Stage launched in 1963 as a community drama group and soon become one of the leaders in the professional regional theater movement. It now draws about 100,000 people each season to its Mt. Vernon neighborhood, where it recently completed a $28 million renovation of its historic building.
Artistic Director Kwame Kwei-Armah—who also directed this production—programs a mix of new work and classics, with more of an edge than most leading theaters in mid-sized cities. Next season's lineup includes Lucas Hnath's "The Christians," "Shakespeare in Love," and George Orwell's "Animal Farm."
"Jazz" centers on the relationship between Violet (Shanesia Davis) and Joe (Leon Addison Brown), which turns violent when a younger woman, Dorcas (Jasmine Batchelor) is added to the mix. Just moments after the lights go down, we see Joe shoot Dorcas. And a blink later, we see a deeply disturbed Violet crash Dorcas' funeral to attack the corpse with a knife.  
It's intense stuff. But 90-minutes proves too tight a running time to contain it. Events crash abruptly into each other, characters are introduced too quickly and sorting out not only who's who but when's when (since the play time hops) gets in the way of immersion in the story. Following a plot shouldn't require consulting a timeline in the program.
Consider the stage time given to less incident-packed adaptations such as "The Curious Incident of the Dog in the Night-Time" or "All the Way Home" (adapted from James Agee's "A Death in the Family"). Or John Irving's "The Cider House Rules," which, when brought to the stage, was turned into a two-parter, at about three hours each. The designers, wisely combining minimal set pieces with projected backgrounds, allow Kwei-Armah to keep things moving. But "Jazz" still desperately needs such room to breathe and find its rhythm.  
The heightened dialogue hints at what might have been mined if, taking the lead from the title, "Jazz" had been turned into a musical. Songs tend to forge connections between characters and audience—or, at least, give us time to figure out what's going on.
Still, the production demonstrates that Baltimore Center Stage certainly has access to talent.  I'd particularly love to see more from Jasmine Carmichael and Warner Miller, who play the young Violet and Joe, and it was great to see Michele Shay, who I recalled from a PBS broadcast of "A Midsummer Night's Dream" from New York's Central Park decades ago.  
I can't answer how faithful the adaptation is to the book, since I haven't read it (although I'm now inspired to). I'm less interested, though, in whether or not an adaptation closely follows its source than I am with whether the piece works on its own on stage. "Jazz" isn't quite there yet.
Please enable JavaScript to view this content.