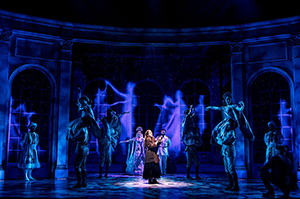 photo credit Matthew Murphy
On the Tony Awards broadcast on June 11, the musicals "Groundhog Day" and "Anastasia" didn't fare very well. The former earned a batch of nominations, including Best Musical, but presented a soft excerpt that left some viewers wondering what the fuss was about. The latter didn't garner many nominations and wasn't even given a slot to perform on the program.
On a recent trip to New York, I caught both shows on Broadway and while neither rose to the level of classic, either would have been a strong award contender in a lesser season. Both offer big pleasures, strong performances, outstanding visuals and above-average musical scores.
"Groundhog Day" is the one most likely to incite cynicism even before it shows its face. Based on the justly beloved movie comedy, it dares to cast another actor in Bill Murray's shoes. Stepping up to that challenge is Andy Karl, a Broadway vet who doesn't shy away from the darkness of the character. Neither does Tim Minchin's score or Danny Rubin's book. All seem to get that for this Capra-esque story to work (man goes through fantastic ordeal—in this case, reliving a single day over and over again—and, in the process, learns how to be a human being), it has to go dark and get ugly.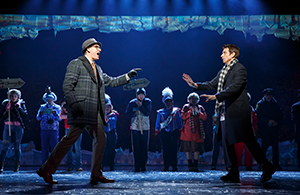 photo credit Joan Marcus
"Groundhog Day" never stops being fun, but it isn't afraid to embrace that darkness, to take weatherman Phil Connors into the abyss. That makes his emergence at the other end all the more satisfying.
Unexpected details help, too. A marvelous visual involving a van, a groundhog, and a shovel provide the show's biggest laugh. Playful wait-how-did-he-get-over-there effects make the repetitious wakeups often reach a giddy level. Barrett Doss is certainly an upgrade from the movie's bland leading lady Andie MacDowell And a pair of songs for peripheral characters in the second act keep the audience on its toes. Yes, insurance agent Ned Ryerson (John Sanders) may have you reaching for the tissues.
Translating "Anastasia" to the stage might have been an even more complex challenge. Those who love classic movies may remember it from the 1956 Ingrid Bergman/Yul Brenner movie (which, in turn, was based on a play). A different generation would recall the story from the 1997 animated film.
The stage musical takes some of the songs from the latter, adding more from the same composer/lyricist team of Stephen Flaherty and Lynn Ahrens (best known for "Ragtime"). The new book by Terrence McNally dispenses with the animal sidekicks and fantasy elements and adds a new villain while never losing sight of the core of the story.
This is, after all, a princess story. An amnesiac young woman on the streets of Russia is recruited by a couple of con men into pretending to be the Grand Duchess whose family was killed in the revolution. Is she or isn't she? Well, that's the driving force of the play. But it's not just about the potential reward. It's about a search for identify. And while elements of "My Fair Lady" and "Cinderella" are lovingly tucked inside it, "Anastasia" wisely never winks at the audience. We're meant to embrace Anastasia's journey sincerely, and the gloriously designed and costumed show is all the better for it.
It helps, of course, to have a leading lady, Christy Altomare, who personifies grit and spunk while never losing her humanity or losing sight of the fact that this woman has undergone extreme loss. Yes, she gets to close the first act with the rousing "Journey to the Past," but she also gets lovely, truthful scenes with her maybe grandmother (Mary Beth Peil) and a believably blossoming romance with streetsmart Dmitry (Derek Klena).
In the cases of both "Groundhog Day" and "Anastasia," I was glad that it's been about a decade since I've seen their cinematic versions. That way, I could bypass considering what was/wasn't created for the stage and, instead, enjoy both for what they now are.
I've said it before and I'll say it again: I have no problem with movies being turned into musicals. I do have a problem when that decisions seems to have been made by a committee rather than artists. Both "Groundhog Day" and "Anastasia" feel somewhere in between. While the films didn't necessary cry out for musicalization, those tasked with doing just that have done so with wit, heart, and brains.
I fully expect "Groundhog Day" to pop up in many regional productions. And I'm convinced "Anastasia" has a long theatrical journey ahead of her.
Please enable JavaScript to view this content.