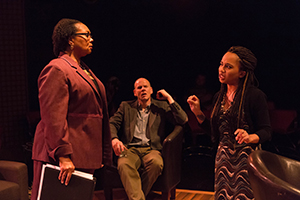 Researchers fail when they bend the facts to support their starting hypothesis.
Writers can do the same when they decide on a message and then bend their characters to reach that predetermined spot.
Which is why it's so refreshing to experience a play that relentlessly challenges its audience to rethink its assumptions, about both big-picture issues and the human characters wrestling with them.
Such is the case with Seth Rozin's "Human Rites," having its debut at the Phoenix Theatre (through Aug. 14).
In it, university dean Michaela (Milicent Wright) calls professor—and former lover—Alan (Rob Johansen) into her office for a chat. Students of Alan's have complained to her about a yet-to-be-published research paper that he presented in class. His study, which deals with female circumcision practices in four African countries, concluded overwhelmingly that women in those countries approve of and embrace the practice—a conclusion that flies in the face of what, for many (including Michaela), has been labeled "genital mutilation."
Michaela, like the students, is deeply offended by the study, and pressures Alan to withdraw the paper.
But should a study be discounted just because it flies in the face of conventional wisdom and popular perception? Alan argues that science is science and to let popular polling dictate research results is taking a giant step backward.
I hope the above doesn't make the play sound didactic. While it's filled with thought-provoking ideas, the actions are driven by its characters, including a grad student from Africa (Paeton Chavis), who adds more surprising perspective.
The play goes well beyond the specifics of the issue. Could it be that Alan, being a white American male, was subconsciously biased in his research methodology or interpretation of the findings? How much does one's cultural background influence not only what one believes, but also what one chooses to be outraged about? 
At the Phoenix, it's blessed not only with a terrific trio of performers but also with direction by Chicago-based Lavina Jadhwani, who never lets the tension dissipate while also understanding the need for breathing room. With the basement theater reconfigured with a thrust stage at its center and the audience on three sides, it's intensely intimate but also surprisingly funny (in appropriately human ways), closing out the Phoenix season with one of the year's most wholly satisfying theatrical productions.
Please enable JavaScript to view this content.