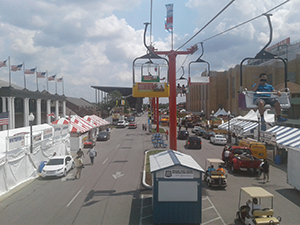 The Indiana State Fair opens for business today and while much of what you'll find around the oval is what you've found in previous incarnations, a newbie likely to grab your attention is the Subaru Skyride.
That's a 90-chair ride taking patrons on a 1400-ft journey above the Fair's main drag, affording a $5 opportunity to see the detail in the Coliseum's facade, catch a glimpse of the downtown skyline, and perhaps accidentally send your cell phone on a spectacular plummet to the ground 35-ft. below.
The one-way cruise roughly from the midway to the swine barn, takes a surprisingly leisurely seven or so minutes, depending on how much starting and stopping happens. While looking down may trouble some, taking a glance at the connecting between each seat and the track above will probably prove more nerve-racking.
Climbing and deboarding proved smoothly than I had anticipated and the ride itself was remarkably, pleasantly zen-like. Once the hustle and bustle of the Fair is in full swing, though, I anticipate the experience will be much more dramatic.
Before the kids get too excited, note that there's a minimum 32" height and 48" to ride alone. And even if you opt out of the ride, be careful walking down Main St.
You never know what might drop from above.
Please enable JavaScript to view this content.