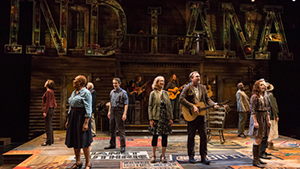 — The Indiana Repertory Theatre's original production of "Finding Home," a multi-playwright examination of Indiana history, will be broadcast of WFYI in December. It marks the first time an IRT production has reached the small screen. 
— Also in TV news, the Indianapolis-set documentary "Night School" will have its national television broadcast premiere Sept. 12 on World Channel as part of its "America Reframed" series.
— The Phoenix Theatre has released most of its 2017/18 lineup, the last season at its current home before moving to its being-built new stages. In addition to the already announced season-opening "Fun Home" and the latest version of its holiday sketch-and-music show, the theater will produce the wild Robert O'Hara play "Barbecue," the NFL brain-injury drama "Halftime with Don," and the bio-play-with-music "Nina Simone: Four Women." The Feb.-March slot has yet to be filled.
— "Indiana Across the Land," the latest book from photographers Lee Mandrell and DeeDee Niderhouse-Mandrell, has been published by IU Press/Quarry Books. The duo boasts that the book does not contain a single corn field shot.
— Conner Prairie will be adding a 7-acre corn maze later in the season. The attraction will carry an addition $5 charge from Sept. 23-Oct. 11 but will be free for those attending the popular Headless Horseman activities Oct. 12-29..
— Make sure to visit www.IBJ.com/arts for more stories, ticket giveaways, previews and reviews. And watch for the IBJ A&E Season Preview in the Sept. 4 issue.
Please enable JavaScript to view this content.