With more than 70 shows to choose from at this year's IndyFringe, you can understand why so much street chatter between shows starts with some variation of "So, what have you seen?" 
Here's what I've gotten to so far, with more to be added. For a full schedule for the fest, which runs through Aug. 27, visit www.indyfringe.org.
"The Art of the Jewish Joke (Jewish He Doesn't Look Funny)"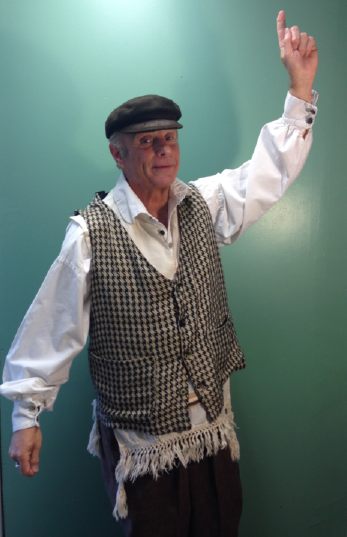 Local TV stalwart DIck Wolfsie knows how to deliver a joke, which he does to delightful end repeatedly in this one-person show. He's at his best when he's being conversational, anchoring stories to his life, including telling a funny story from his childhood–that he insists is true–about a wisecrack he made to a rabbi that led to a surprising result (I won't spoil it). But this isn't just "One Jew Telling Jokes." Wolfsie contextualizes the schtick in religion and culture, explaining some of the thinking behind what makes a joke Jewish and what these jokes say about the people who tell them. What the show could use is a bit more confidence. Wolfsie doesn't need the gimmicks he's attached to the show–a wheel of jokes, a deck of jokes for the audience to pick, a video scene from Seinfeld. The jokes and his insightful, friendly discussion is more than enough for a 50 minute program. Then again, maybe I'm being the Jewish mother in the classic joke who sent her son two sweaters…
"Josephine"
One of the pleasures of the Indy Fringe festival is seeing a show break out of the pack and it didn't take long for this one to generate buzz. Attending its second performance here, I was glad to see that it lived up to the chatter. The one-woman bio about Josephine Baker features a standard-issue connect-the-career-dots script (trimmed from earlier productions), but the dots themselves are what makes this show. Not only do we get the famous banana-skirt dance that wowed Paris audiences, but also strong performances of songs key to Baker's story but better known from recordings by others–"Strange Fruit," "La Vie en Rose" and "The Times They are a' Changin'." Tymisha Harris, visiting from Orlando, delivers as strong and tireless a one-person performance as you are likely to see in a Fringe show. Kudos, too, to the costume and set creations that never made this ever feel less than a fully professional production.
"The Gab"
Opening with a series of physical gags executed with panache I've not seen on local stages and featuring impeccable video work–including a very funny pre-show "newscast"– "The Gab" offers plenty of pleasures to balance its rather flaccid premise. We're on the set of a "View"-like morning show and the five women hosts are, of course, at each other's throats. Some gags are spot on. Others go on too long. And an occasional bit–such as the meek backstage staffer finally shouting to shut the women up–feels like a step backwards. The cast, for the most part, does just fine job playing their single-note types, with Nathalie Cruz stealing scenes with clueless glances and Devan Mathias anchoring matters as a harried stage manager. Perhaps the best thing about the show is an announcement on the back of the program that Zach&Zack, who helmed this lark, will be staging "Hedwig and the Angry Inch" in January.
"Beyond Ballet Remix"
In addition to offering, one hopes, under-an-hour pleasures, the festival also affords the chance to sample the work of local companies before committing to full-ticket-price shows other times in the season. Credited in the program as being presented by the Indianapolis School of Ballet, this program provides a taste of what the new Indianapolis Ballet–a professional offshoot of the school launching this season–has to offer. More specifically, it's a chance to see up-close performances by two professional dancers, Chris Linger and Kristen Young, hired to anchor the company. Both fared well, with Young particularly popping in a tango number. The narrow Theatre on the Square mainstage proved better suited for the tap and tango numbers than the ballet pieces, though. And an excess of between-dance pitches for upcoming company events and praise for the youthful dancers made this often seem as much a backers' audition or student recital than a complete production.
"Kurt Vonnegut's Mother Night"
One of the challenges of crafting a fringe show has to do with timing–not just a show being right for the times but also a show fitting comfortably into the allocated 50-minute fringe time slot. This is particularly challenging when it comes to narrative plays. In the past, too many I've seen have either felt like stretched sketches or truncated full-length shows. In this case, though, playwright Thomas Horan has found the fringe-length show in Vonnegut's 1962 novel. As in the book, the play concerns an American writer in Germany who, while serving as a propagandist for the Nazis, also doubles as a spy for the Allies–even though he doesn't know what coded messages he is delivering via his radio broadcasts. Jeffrey Martin, usually working behind the scenes at the Phoenix, takes the lead with Chelsea Anderson given a showcase for her talents taking most of the other parts. If hardcore Vonnegut fans want to challenge Horan's cuts, so be it. What he's done is what any adaptor should do: Make the material work on stage whether one has read the source material or not. And while the deal for the Kurt Vonnegut Museum and Library to have a permanent home on Mass Ave fell through, it's nice to see the organization make an appearance in the area–in this case, as the show's producer.
Please enable JavaScript to view this content.