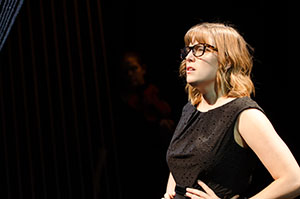 Credit: Photos by Tom McGrath.
In its inaugural production, the new—and most welcome—professional company Storefront Theatre of Indianapolis demonstrates what its moniker suggests: That theater doesn't require much more than talent and space. 
With an artfully lit set comprised mostly of cords suggesting both music (violin strings) and science (string theory), Hannah Moscovitch's play "Infinity" weaves together two stories.
The first involves the relationship between musician/composer Carmen (Melanie Keller) and physicist Elliot (Ryan Ruckman). The second focuses on Sarah Jean (Andrea Heiden), who directly addresses us with tales from her sexual history.
Eventually the two strands come together, providing some of the plays most interesting moments—moments anchored in a multifaceted, tightrope walk of a performance by Heiden.
If only Moscovitch's script didn't insist on the kind of conversation that only seems to exist in audition monologues and scene-study classes. I'm all for heightened reality in plays. Not everything has to be kitchen-sink believable. But here, characters relentlessly reveal too much information too soon, faux-awkwardly sharing intimate details in ways that bounce back and forth between amusing and annoying.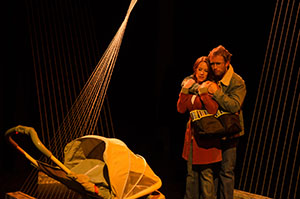 Credit: Photos by Tom McGrath.
It doesn't help that the deck seems unfairly stacked against Carmen in the problematic relationship at the show's core. No doubt it must be challenging to maintain a relationship with someone obsessed with his work, but the play and production never lets us into Carmen's head. We hear much more about Eliot's science (with energy reminiscent of William Hurt in "Altered States") than about her music. And later events in the play tip the sympathy scales even further in his direction. We witness his heart but not hers. Could it be that the playwright and/or director meant for her to be this prickly and unpleasant? If so, I couldn't see to what end? A brief bit of movement theater hurts more than it helps.
Another theory is that the real story that's being told isn't Carmen and Eliot's, it's Sarah Jean's. If that's the case, saddling her with the schtick-heavy opening monologues may get laughs but also gets in the way of the empathy needed for the play's ending to have as strong an ending as it could.
Still, powerful moments shine through. And Ruckman is never less than interesting. When he and Heiden share a scene, the play suddenly becomes rich and human. It's those moments that make "Infinity" worth exploring.  
All that being said, Mass Ave. desperately needs an infusion of professional and semi-pro theater. With the Phoenix Theatre moving, Theatre on the Square in a holding pattern, and Wisdom Tooth dismantled, Storefront Theatre will, I hope, help keep the arts sparked on the increasingly popular dine and drink stretch. And Storefront Theatre's commitment to producing the work of minority and women writers makes it even more important to our arts mix.
It's arrival should be celebrated.
"Infinity" runs through Oct. 15 at IndyFringe.
Please enable JavaScript to view this content.