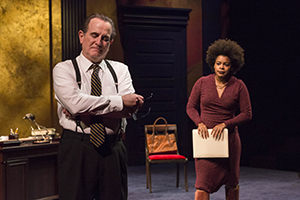 "The Originalist," having its local premiere at the Indiana Repertory Theatre (through Nov. 12). comes from a long line of plays where historical figures bounce their philosophies off of fictional characters.
Here, Supreme Court Justice Antonin Scalia (a fine Henry Woronicz, although looking a bit more like LBJ than AS) finds a sparring partner in fictional liberal black lesbian law clerk Cat (Ayanna Bria Bakari, holding her own and then some).
It's obvious going in that, over the course of the play, these two will grow to understand each other more and at least inch toward a middle ground. And part of the play's pleasure is hearing debate from two drastically different viewpoints that, refreshingly, doesn't descend into shouting matches. Both characters actually seem to be listening to each other, a credit to the script, the actors, and director James Still.
John Strand's play doesn't shy away from Scalia's opinions or the thinking behind them. In fact, it feeds off them. Scalia acknowledges—and even embraces—his public persona as (to some) a monster. But the play is determined to humanize him, highlighting his sense of humor, the rigor of his thinking, and, ultimately, his compassion demonstrated to Cat.
The play works on those first two counts, playing up his wit and making clear his thought process on decisive issues. It's weaker when it weakens Cat, giving her a father on his deathbed to provide Scalia an opportunity to show his humanity. And not much is gained by throwing in a third character, Brad (Jeb Burris), who is little more than the extreme left's idea of what's wrong with the right, making Scalia seem almost centrist in comparison.
Along the ways, there's lively discussion about legislating from the bench, head vs. heart (At one point, Scalia quips, "Law is carved in stone. Emotion is what you had for breakfast"), some hot-button issues, and whether or not the Constitution is a living document or not.
"The Originalist" had its world premiere at Arena Stage in Washington, DC in 2015, which doesn't seem so long ago chronologically. Given the push and pull of the Supreme Court since then, though, two opposing characters in civil debate seems like wishful thinking.
The middle, according to the play, is where you go to sit down with "monsters." But, in a world where the middle seems so vacant. the hope displayed in "The Originalist" feels more like a fantasy. Albeit a very entertaining one.
Please enable JavaScript to view this content.