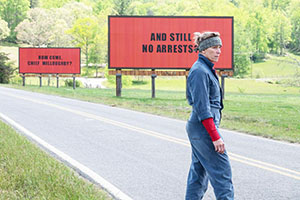 A grieving mother posts billboards with a message for the town's chief of police (Woody Harrelson) in, "Three Billboards Outside Ebbing, Missouri," the latest film from Martin McDonagh ("In Bruges").
Want to get a first look before it goes into release? I've got passes to a sneak preview Thursday, Nov. 16 at Keystone Art Cinema. 
To win a pair, just sent an email to lharry@ibj.com with Billboards on the subject line. I'll pick one winner at random.
For more info on the film, click here. 
Please enable JavaScript to view this content.