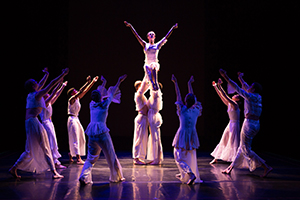 photo credit to Crowe's Eye Photography
More sacred then Santa-fied—yet with playful notes sprinkled in for flavoring–Dance Kaleidoscope's latest show, "A World of Christmas" (through Dec. 10 at the Indiana Repertory Theatre upperstage), combines choreographer David Hochoy's "Ceremony of Carols" (1997) with a string of his short pieces from 1994-2017.
The revived piece that fills the first act, set to a Westminster Choir recording of Benjamin Britten music, opens with a ceremonial procession in which each of the dancers presents abstract gifts of sculptures created by Herron High School students. Ritualistic movement builds abstractly to a breathtaking centerpiece where Mariel Greenlee seems to undergo a miraculous visit to the heavens including an angelic walk across the open palms of her fellow dancers. The moment represents DK at its best.
The sweet spot in the eclectic "World of Christmas Kaleidoscope" second act, occurs when its internationally inspired holiday travelogue hits Spain, Jamaica, and Benin. Spain is represented by a tender pairing of Caitlin Negron and Timothy June that evokes a beautiful equality and connectivity. I didn't realize until a look at the program afterwards that the inspiration was Mary and Joseph's search for lodging, which doesn't contract my interpretation at all.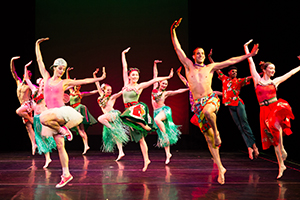 photo credit to Crowe's Eye Photography
The grace of that peace stands in contrast to its follow-up, the playful "All I Want for Christmas, with Brandon Comer getting the high-spirits going and Aleksa Lukasiewicz, Manuel Valdes and Marie Kuhns in turn joining the party. And the Benin-inspired "O Holy Night" evoked, for me, sibling bonds with Negron, Stuart Coleman, and Paige Robinson taking the floor in a low-key but effective number.
The program's rare missteps occur in an early stop in the USA with a theme-park-revue obvious "Here Comes Santa Claus" populated by dancing reindeer and a "White Christmas" that left me wondering what exactly was being dreamed of.
The entire act was presided over by Greenlee's interpretation of the Tchaikovsky's Sugar Plum Fairy as a Russian teen, complete with jean shorts, pink sneakers, and backwards cap. One of the stronger actors of the troupe, Greenlee's spirit helped unify the program, which ended with a playful "Mele Kalikimaka" and a "Silent Night" the presented a communal close for the evening.
Please enable JavaScript to view this content.