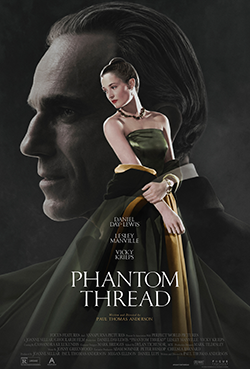 Set in 1950's London, "Phantom Thread" tells of a dressmaker (Daniel Day-Lewis) at the center of the fashion world whose life is changed by a a strong-willed woman (Vicky Krieps). It's the latest from Paul Thomas Anderson, who last collaborated with Day-Lewis on "There Will Be Blood." (which happened to be one of the first IBJ Movie Night screenings a decade ago).
"Phantom Thread" opens in Indy on January 12, but you don't have to wait until then to see it. If you act quickly. And, by that, I mean right now.
Just email lharry@ibj.com with Thread in the subject line and you could win a pair of tickets to a Jan. 10 screening at Keystone Art Cinema. I'll pick winners randomly until the passes run out.
Good luck.
Please enable JavaScript to view this content.