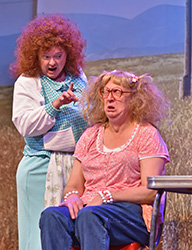 On paper, "Greater Tuna" sounds fun. Two actors play all the residents of a tiny Texas town. They include the on-air "talent" for radio station OKKK, a book-banning matron (she wants to take "Roots" from the school library because it shows only one side of slavery), a not-too-bright ex-con, an animal-rights supporter, and other characters, all of whom are connected in one way or another. 
There's distraction to be had trying to keep track of these connections in Beef & Boards Dinner Theatre production of the play (through Jan. 28). Or imagining the scene backstage as B&B mainstays Jeff Stockberger and Eddie Curry change in and out of the terrific costumes and wigs for the 20 roles they share.
But such diversions don't make up for a lack of actual laughs or reasons to care about what happens on stage.
I left the theater baffled as to how this 1981 piece could have had such overwhelming success over the years in regional theaters while spawning three sequels. It was even performed at the White House for George W. Bush and recorded for television airing. 
Here, joke after joke not only missed the mark, but left me wondering if they were even jokes to begin with.
While "Greater Tuna" might be categorized with such regional mainstays as the "Nunsense" and "Smoke on the Mountain" series—both of which Beef & Boards has staged with success—"Tuna" is fundamentally different. Those other regional theater budget-friendly cash cows have warmth to them and a love for their characters. The would-be satiric world of "Greater Tuna"—where gun shops have slogans like, "If Didi can't kill it, it's immortal," and a dimwitted duo cover up an accidentally poisoned beloved dog by running it over with a car—has little such appeal.
Satire isn't usually on the menu at Beef & Boards. But I don't think that's the reason laughs were infrequent and some of the patrons were squaring up their checks and sliding out during intermission. 
This "Tuna" just hasn't aged well.
Please enable JavaScript to view this content.