Sometimes I wish theater wasn't in theaters.
Sometimes, I wish it was in a place where the people I grew up with and the people I ride with on the bus and the ones I see playing soccer (not in a formal league) in the park and the ones who manage to be cheerful even at the end of a shift at the Dollar General could and would go to see a story about people like the people they know. Plays populated with characters who are as passionate and flawed and funny and pained as they are, revealing themselves as they wrestle with real-life issues. Plays where nobody has a masters degree and nobody calls herself an artist.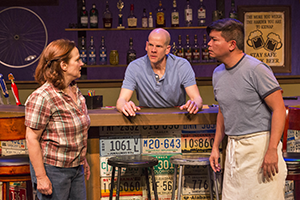 Photo credit Zach Rosing
Those plays exist. One of them, Lynn Nottage's "Sweat," won the Pulitzer Prize last year and is having its regional premiere at the Phoenix Theatre (through March 4).  It's both a meat-and-potatoes show and a work of visual and verbal poetry. And it's populated by richly human, flawed, detailed common people who each contain grace and grime.   
Like us.
Most of "Sweat" is set in a Reading, PA, bar, where factory workers hang out before and after shifts—where they drink, where they celebrates, where they laugh, and where they vent. But while the factory is the lifeblood of the area, it's also part of the disappearing world of American manufacturing. And even if your father and grandfather made a good living there, well, that was then.
Management—who we never see—wants to promote one person from the factory floor and both Tracey (a blistering Diane Kondrat) and Cynthia (Dena Toler, demonstrating a wider range than I've previously seen), longtime friends, put their hats in the ring. One gets it. One doesn't. And having one of your own in an elevated role shows itself to have strings. This is a world where improving oneself is looked at with caution.
In the mix, too, are their sons, Jason (Nathan Robbins) and Chris (Ramon Hutchins). The opening scene hints at a violent encounter that landed both in prison, but flashbacks find them friends. Sorting out what happened between them helps drive the plot forward, but the real drama is what's happening that's out of all of the workers' control. And what that lack of control does to their spirit and their connectivity.  
There are times when Nottage's writing is a little too on point—as if she took a nugget of a quote from one of her research interviews, polished it to a shine, and dropped it into the script for whatever character happened to be speaking. Most of the time, though, her art is carefully hidden in the way she allows her characters to create their own rhythm, enhancing them as individuals. That's particularly true of the two characters least central to the action, perpetually soused Jessie (Angela Plank, costumed to perfection by Brittany Kugler) and dumped lover Brucie (Dwuan Watson, dancing adroitly along the repulsion/attraction line).
At the center of it all, subtly at first, are bartender, Stan (Rob Johansen) and silent–to a point–Oscar (Ian Cruz), both of whom come into their own in the second act.  
Were we the theater town we could be, Lynn Nottage would be a more familiar name to local playgoers. Her play "Ruined" is a rich, painful, deeply moving play set during Congo's civil war. Her "By the Way, Meet Vera Stark" is a wildly creative and thoughtful look at African-American representation in Hollywood films. I keep hoping either work—or others by her—will show up on area schedules. The reality though is that contemporary play production is rare, contemporary play production by women is rarer, and contemporary play production by African-American women is even rarer. Theater can no longer hide behind the nonsense that quality work just isn't out there. It is. 
The problem remains for this and other new work: How to sell it to a new audience that would love experiencing this play. Its title doesn't help. Saying it won the Pulitzer isn't enough. 'Regional premiere" doesn't carry much cache with someone struggling to get by until the next payday and uncertain whether or not that payday will be the last.
I have no answers. But I encourage you to see "Sweat," ideally with someone who doesn't normally go to theater. That experience should prove dramatic for both of you.
Please enable JavaScript to view this content.